Murderous Vision/Defiler – Split 7"
29 October 2012
xdementia
No Comment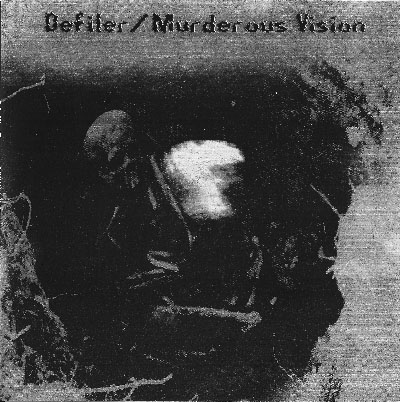 Murderous Vision/Defiler – Split 7″
Live Bait Recording Foundation
Here's a sickened slab of wax featuring two dark noise artists at their best. Defiler is a name that somehow seems familiar to me, but in which way I cannot recall. Murderous Vision is of course the long-running project of Mr. Stephen Petrus hailing from Ohio and active for many years. Packaging here is adequate with fuzzy high-contrast black/white imagery and with dancing skeletons on the back you can't go wrong.
Defiler is up first with one track entitled Your Diseased Icon. This is a brooding power electronics track with a ton of industrial atmosphere layered in the background behind the central throbbing power drone. Low mumbling chants work into the noise perfectly. One thing I really dig about the track are the subtle harmonics formed by the layers of reverberation. At times the production can be a little boomy, but it doesn't take away from the track much at all.
The Murderous Vision track on side B entitled A Savior's Plague is among the best work I've heard from the artist. Altered layers of drones and manipulated field recordings mesh together in a great way and are soon backed by subtle industrial pounding. Muffled samples and wisping noise build the atmosphere succinctly. My only gripe lies in the format because just as things are getting going the record is at an end!
This split is an excellent pairing of artists and intention. I like the linked conceptual themes of the tracks and they also compliment eachother through sound. An excellent release all around.
| | |
| --- | --- |
| Composition: | |
| Sounds: | |
| Production Quality: | |
| Concept: | |
| Packaging: | |
| Overall Rating: | |