Frank Rosaly – Centering and Displacement LP
30 October 2012
xdementia
No Comment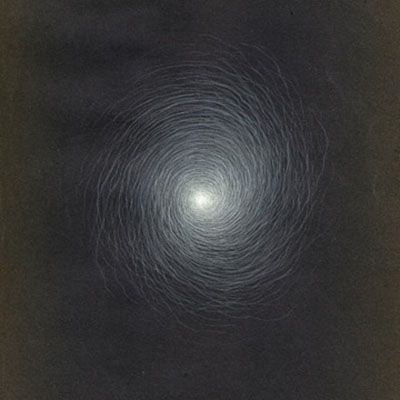 Frank Rosaly – Centering and Displacement LP
This record has made me realize that although I do love vinyl – with the large artwork, the heavy packaging, the analog concept and the physical ties to an abstract medium – I will still choose to listen to a compact disc if given a choice. That's because this LP comes with a compact disc of the same material that is on the record and I'm realizing I haven't listened to the actual record at all even though I've rocked the CD a few times. I just prefer to avoid all the weird audio artifacts that come with vinyl if I can; the dust, the scratches, possible warping, and baked-in clicks can really distract on a recording like this one.
Centering and Displacement is summed up well in this featured quote on the insert "To manipulate a recording of the improvised process is to directly dilute spontanrous conception, and thank god for that." Well said, yet one has to wonder if the material on Centering and Displacement really shares more stylistic characteristics with the "free improv" crowd than the overtly obsessive compulsive electroacoustic composer. Luckily this isn't pure wankery of the lowest degree, or serial composition of the highest order. The album has moments of mismatched elements, awkward phrases and contrasting gestures. But it's tied together with passages that bring elements together as well, gives them context, evolves them, and brings them home.
The extremely crisp and clear production helps to accentuate the structure yet also amplifies the separation between the percussive and drone elements. The textured bell sounds in both movements are a much needed tool to bring together those layers. Within Centering and Displacement you will hear frantic free jazz percussion, but the bulk of the record is focused on subtle drone and carefully constructed sound design. Stylistically it pulls from electronica, electroacoustic, and free improv genres.
Centering and Displacement is a solid effort of experimental music. The production and sounds are very enjoyable as well as the twists and turns in each track. This is my first exposure to the composer and hopefully it's not the last.
| | |
| --- | --- |
| Composition: | |
| Sounds: | |
| Production Quality: | |
| Concept: | |
| Packaging: | |
| Overall Rating: | |