Deign – Pecuniary Huckster C20
31 October 2012
xdementia
No Comment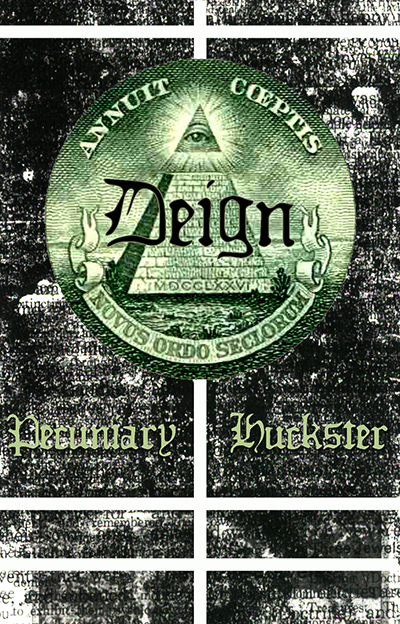 Deign – Pecuniary Huckster C20
I'm really digging the design of this tape. Further confirmation that Out of Body Records is slowly – but certainly not quietly – becoming a significant force in the noise world. Not only that, but presenting really great unknown artists is a crucial characteristic for a noise label and that is another area where Out of Body Records seems to excel.
The sounds presented in Pecuniary Huckster are extremely refreshing. This is music that pulls from such genres as electroacoustic, harsh noise, experimental, and sound collage. Think of if Yellow Tears and Brume had a baby. The track are never slows or bores, there is a ton of movement always keeping things interesting. The sample manipulation is top-notch and in center stage here with quickly evolving textures, gestures and sound ideas.
Side B is quite unexpected breaking in with electronic drum machine rhythms which are extremely distorted to hell. Reminding me of some heavier kind of power noise. It doesn't come off as being quite effective as side A. Eventually the rhythmic element is lost and the track breaks into pure harsh noise. To be picky, the low-end element from the drum sounds isn't replaced by anything so the harshness of the free form noise is not as impactful. Yet it's still a valiant effort from Deign where the harsh distorted layers are dynamic, morphing, and layered to form a juggernaut of white-hot sound.
This is a tough review because each side is so different. I really enjoy side A a lot more and find the material very original where side B is well tread ground yet still a solid effort. Pecuniary Huckster is one for the eclectic among noise fans who don't mind an artist showing different sides in one release.
| | |
| --- | --- |
| Composition: | |
| Sounds: | |
| Production Quality: | |
| Concept: | |
| Packaging: | |
| Overall Rating: | |