Linekraft – Bouryoku Kikai CD
3 November 2012
xdementia
No Comment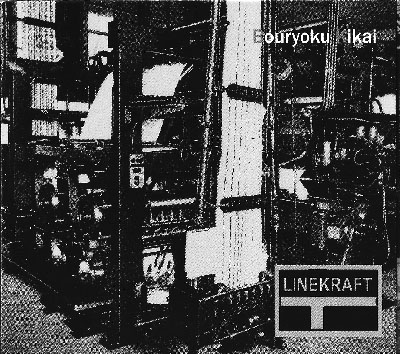 Linekraft – Bouryoku Kikai CD
When I imagine what a pure industrial record would sound like it's probably something similar to Bouryoku Kikai with it's high contrast black and white art, bold logos, and raw sound. Hailing from Japan the project uses scrap metal and found objects along with a barrage of electronics to form a lo-fi yet very aggressive and layered sound collage.
Bouryoku Kikai has something for any industrial fan. Swashes of noise, plenty of scrap manipulation, industrial rhythms, blasts of vocal atrocities and even minimalist rumbling bass drones. The style lies somewhere between that of Vivenza and Z'ev and it turns out to be a perfect mix. The noise elements really compliment the percussive industrial sounds well and Linekraft has no problem exemplifying his ability to evolve the compositions as they unfold as shown in Jinkaku Shougai the mammoth 19 minute opus.
The production here is rough and raw with heavy lows and screeching highs. Despite the dirt it has a heavy edge to it and I find myself constantly surprised while listening to hear different elements carefully placed within the listening space to form a full 3 dimensional environment. The second half of Bouryoku Kikai offers a slight variety in tracks with the more experimental Yugou, the power electronics-leaning Kenjyu Jisatsu and closing things up with the seething and repetitive Kigurui.
I really like Linekraft's work here because what he delivers is a slab of old school industrial noise. Bouryoku Kikai is raw, visceral, and well composed without being overly thought out. Recommended to any industrialist worth his weight in salt.
| | |
| --- | --- |
| Composition: | |
| Sounds: | |
| Production Quality: | |
| Concept: | |
| Packaging: | |
| Overall Rating: | |