Legless & Lavas Magmas & Regosphere – Live in Glen Burnie 3"CDr
6 November 2012
xdementia
No Comment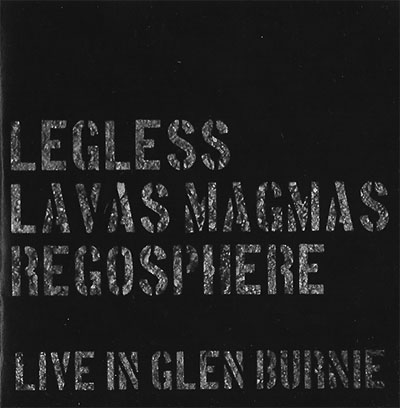 Legless & Lavas Magmas & Regosphere – Live in Glen Burnie 3″CDr
I come into Live in Glen Burnie thinking that 3 separate acts, playing together in a live collaboration sounds like a recipe for disaster. Luckily I'm wrong on this account because this little 3 incher delivers some dense layers of electroacoustic and industrial mayhem.
Extremely layered washes of sounds are combined effectively on this one 18 minute long track which ebbs and flows throughout its duration. I really enjoy all the crazy textures and sounds which might be culled from feedback, synthesizers, metal scrap and pedal fx as well as field recordings. It's concrete yet also atmospheric and works to create a great factory style industrial atmosphere. It could easily be the sound of a mining plant being built miles below the surface of the earth. The production has a very raw edge and a touch of muddiness which cuts some of the effectiveness – or gives it character?
The track evolves nicely starting with a mix of various textured layers which die down a to focused feedback frequencies about 2/3rds of the way through the track. A noisier swell takes hold towards then end before slowly dying out like a puttering machine. All in all it's quite a journey and should be heard by fans of artists like Vivenza, Noises of Russia or Mnem. Nice work.
| | |
| --- | --- |
| Composition: | |
| Sounds: | |
| Production Quality: | |
| Concept: | |
| Packaging: | |
| Overall Rating: | |