Pacing – Summer Tour 2011 CDr
29 November 2012
xdementia
No Comment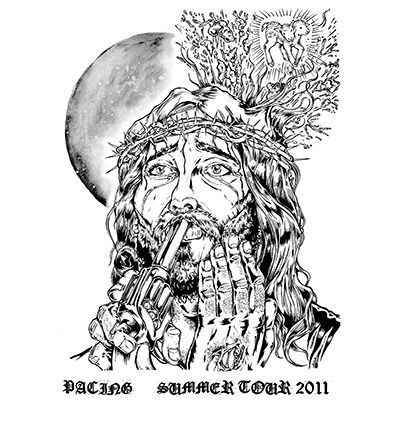 Pacing – Summer Tour 2011 CDr
Here's another older release yet definitely one that warrants a review. Pacing keeps bringing it with no expectations and no strings attached in this 4 song CDR (also available online for free).
Pacing seems to employ a general song structure with most of their tracks here. Droning mid-range tones are used as a bed with various layers of noise folded over it. Feedback, junk noise, synth madness it's all here and the tracks unfold quite nicely.
The epic closing track entitled Aftermath Live 5/3/2010 delivers an even more minimalist affair with layers of soundwaves reminiscent of a stack of humming industrial machines. Washes of bubbling elements remain apparent on the edges to give this a strange, almost claustrophobic edge.
As a freebie this is worth a download and it's a solid showing on Pacing's unique take on noise. One for fans of ambient noise and droning harshness.
| | |
| --- | --- |
| Composition: | |
| Sounds: | |
| Production Quality: | |
| Concept: | |
| Packaging: | |
| Overall Rating: | |