Nite Shadez – Black Holes For The Face And A Graveyard C47
2 December 2012
tankakern
No Comment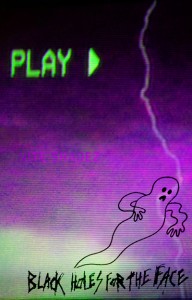 Nite Shadez – Black Holes For The Face And A Graveyard C47
Out of Body Records and Rob Buttrum literally never cease to impress me with fantastic aesthetic and a brand that is somehow "so Texas" in the weirdest and most sinister way possible. Black Holes For The Face and A Graveyard is the latest tape from the Nite Shadez project, a duo consisting of Rob Buttrum and Andrew Michael. The mood here is consistent with Out of Body's regular output, and the influence that Buttrum has on the music shines through. A lot of similarities are to be found with this project and Filth, Buttrum's solo project that swept the noise scene with the devastating Winter Mind in 2011.
Nite Shadez takes on way more of a cut-up sound; the massive, bass heavy aura that this tape presents is punctuated by nauseating, mangled sounds that, at times, swim through one's head uneasily only to churn in a racing abyss of blown out, VHS-era blackened distortion. Imagine Sick Llama but much more menacing. While the A side presents the busier aspect of Nite Shadez, side B contains more of a subdued, nuanced side of the project and is, I think, much more interesting. Soaring spaces of synth blackness pervade every part of the sounds here. This track starts to meander a bit near the end, but the nasty, distorted glitching drums mixed with the deep drones sound really awesome.
Listening to Nite Shadez reminds me things like tweaked out dudes pissing their lives away in lonely desert auto shops. A mash up of sounds from a bygone era with a real sense of disgust, despair and hopelessness throughout.
| | |
| --- | --- |
| Composition: | |
| Sounds: | |
| Production Quality: | |
| Concept: | |
| Packaging: | |
| Overall Rating: | |