Funerary Call – Nightside Emenations CD
13 December 2012
xdementia
No Comment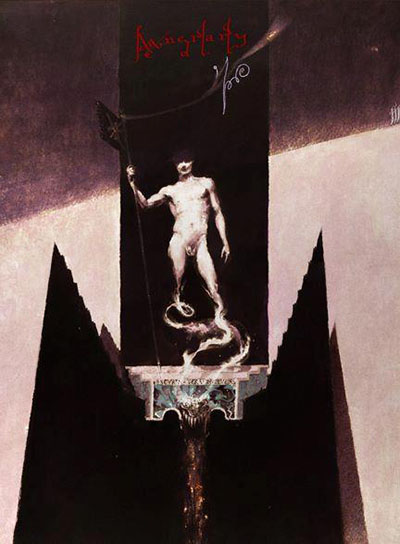 Funerary Call – Nightside Emenations CD
Time for some proper dark ambient music with one of the more recent albums (two were released in 2012) from Funerary Call. If you're not familiar with the project Funerary Call is Harlow Macfarlane also the mane behind the death industrial project Sistrenatus. Under the FC moniker Macfarlane creates ritualistic dark ambient music with a heavily organic feel.
The sounds on Nightside Emenations are quite well spread out and composed only dealing with thick slabs of layers at key moments. This helps to create a feeling of spaciousness and openness which also gives the album a touch of exploring the unknown.
Kicking off with two rather understated tracks Wands of Fire and the title track Nightside Emenations, Funerary Call lets the listener get settled into his world. It's not until Thee I Invoke where the power of Funerary Call's world is really unleashed. Combining lo-fi organic samples with booming tribal drums and ghastly satanic chanting makes for an intense unification of sound that runs a wide spectrum. The track also evolves effectively into a wash of windy drones and creepy reversed mantras.
Another notable moment is the passage of stasis that Funerary Call exhibits in The Calling which features some unearthly howling wind instruments mixed with various bell sounds. Macfarlane decides to end Nightside Emenations utilizing the most active moments on the album with the track Upon the Hearth which focuses on heavy tribal drums and controlled drones carefully placed on top of the other layers.
Nightside Emenations is a fantastic new album from the act further evolving the Funerary Call sound. To any previous fan: you will not be disappointed and to fans of dark ambient in general Nightside Emenations offers much more than the usual ho-hum of down-pitched synthesizer drones. Recommended to fans of Aural Hypnox, this is ritual ambience at its best.
| | |
| --- | --- |
| Composition: | |
| Sounds: | |
| Production Quality: | |
| Concept: | |
| Packaging: | |
| Overall Rating: | |