Bitchneck – All This is Yours C10
16 December 2012
xdementia
No Comment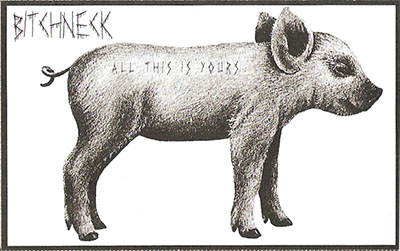 Bitchneck – All This is Yours C10
Here's a quick tape from one of Boston's finest unsung power electronics projects. Bitchneck creates a range of experimental sounds which usually find themselves falling into the power electronics genre and on this quick tape they culminate into a hearty slab of brutal aural assaults.
Side A consists of two tracks, the first is a mixture of weird experimentation with an almost digital effect to the sound but layers of oscillating synths and noise attacks join it with scathing vocals. The second track is absolutely brutal here sounding like an aural interpretation of a slaughterhouse complete with muddled screams and mechanized moans that simply sicken the senses and excellently paced noise elements.
Side B is the same as side A which makes this review pretty easy.
Bitchneck solidifies his place at the top of the pile of power electronics artists functioning right now even with his underrated status. This tape just drives another nail into the coffin of the old school pe heroes to make way for the new breed.
| | |
| --- | --- |
| Composition: | |
| Sounds: | |
| Production Quality: | |
| Concept: | |
| Packaging: | |
| Overall Rating: | |