Murderous Vision & Fascist Insect – Primordial Beings From Dimensions Unknown LP
31 December 2012
xdementia
No Comment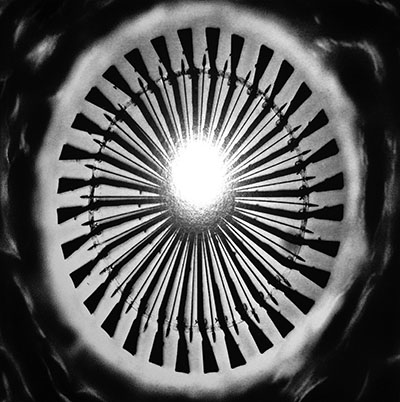 Murderous Vision & Fascist Insect – Primordial Beings From Dimensions Unknown LP
Black Maggot Noise Productions/Live Bait Recording Foundation
Here's a collaboration between two Ohio-based acts. Murderous Vision is the long-running ambient/industrial act from Stephen Petrus and Fascist Insect is a noisy grindcore four-piece from the Cleveland area. The artwork here is strait forward and the LP itself is clear with blood spatter all over it to make for a uniquely packaged artifact.
Side A features 3 tracks of industrial/noise. The title track is up first and features howling walls of sound and windy noise. There's a little body lacking on the low-end here but that is remedied in A Secret Door with it's plodding industrial rhythm and thick core of noise. There is always a ton of layers in each track which tends to create a lot of chaos, although a more minimal approach is taken for Omnipath until the influence of Fascist Insect finally rolls in and offers a repetitive heavy rock outtro.
Side B contains one track entitled Blood of the Tyrants which alternates between noise and the grindcore of fascist insect. Sometimes the industrial noise builds up into the rock portions, sometimes it's layered over it. Other times it simply harshly fades in or out with no real context at all, so the side feels a bit disjointed although there are some good textures and moments in the songs themselves.
Honestly the pairing seems a little odd and the collaboration a tad forced. Side B especially doesn't flow very well with Side A sounding a bit more natural. This is a rather strange record but one that will appeal to fans of raw industrial and grindcore.
| | |
| --- | --- |
| Composition: | |
| Sounds: | |
| Production Quality: | |
| Concept: | |
| Packaging: | |
| Overall Rating: | |