Gnawed/Ice Volt – Split C20
31 December 2012
xdementia
No Comment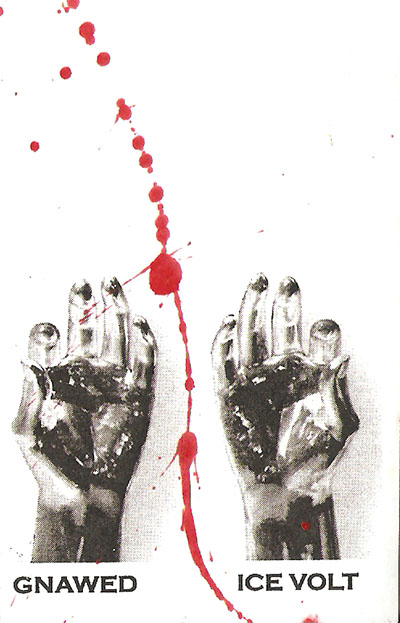 Here is an absolutely SICK split tape between these two Minneapolis iconoclasts Gnawed and Ice Volt. Of course I am quite familiar with the prolific and devastating project of Grant Richardson that is Gnawed. Ice Volt on the other hand keeps quite a low profile and although I've personally met the man I have yet to have heard his recorded material under this moniker.
Well Gnawed is up first on side A with Denied and just from the title I am already loving Richardson's over-the-top sense of blunt simplicity. The music follows suit with absolutely pummeling death industrial much reminding me of the work of Morder Machine but quite evolved with many more details and more interesting sounds. This is an older tape but one that goes to show that Gnawed is not only quite ahead of his time but also remains at the top of the food chain in harsh industrial music. This couldn't possibly be any better.
Although Ice Volt doesn't quite reach the levels of Gnawed he still brings a solid track to the table complimenting Gnawed's sound effectively. Instead of a plodding death industrial rhythm we are treated to a buzzing drone and absolutely sickened vocal deliveries and noise textures surrounding that central element. It's detailed yet instinctual. Animalistic yet also cerebral and a great match/contrast to the Gnawed track.
To put it bluntly this tape is fucking awesome. If you are familiar with Gnawed's material you know what to expect and the Ice Volt presentation here is aggressive yet original. Excellent work which I've come to expect from these Minnesota based freaks.
| | |
| --- | --- |
| Composition: | |
| Sounds: | |
| Production Quality: | |
| Concept: | |
| Packaging: | |
| Overall Rating: | |