Black Leather Jesus/Creation Through Destruction – Split CD
2 January 2013
xdementia
No Comment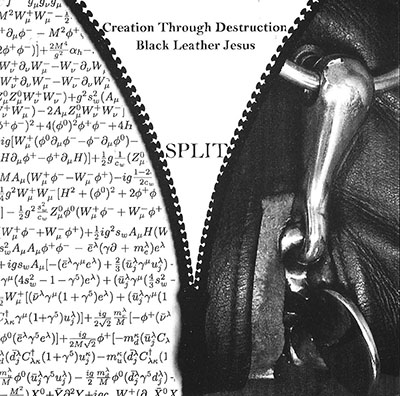 Black Leather Jesus/Creation Through Destruction – Split CD
Harsh noise is the name of the game once again from this heavy split release with each artist presenting 2 long ass tracks. The artwork is interesting, yet it seems like this split brings together two quite unrelated concepts so it comes across as more of just a 2 for 1 deal instead of a consistent artistic project, although the sounds do manage to compliment each other well.
Creation Through Destruction kicks things off with pure blasts of pedal noise. The material is nicely layered with a lot of constant changes to make for more of a flowing noise surge. The quality is quite crusty but also smooth in a lot of places. The spectrum of sound doesn't achieve super high or very low tones which is one thing that sets this material back a touch. Neither is it very original, but a solid slab of noise it certainly is.
Black Leather Jesus presents more of what they're known for: no holds barred harsh wall noise. As usual this sound doesn't quite cut-it for me, the first track Stall Exhibitionists sounding like a demented carnival thrown through a distortion pedal. Luckily they up the ante much more with Bearfighter – which is also a great song title – ripping out the crunchy noise textures and just destroying them for the rest of the track.
The split seems a touch awkward due to the irrelevance of the concepts but it serves up a hearty plate of harsh noise that will fill even the most ravenous of noise fans. If you've heard harsh noise before you know what to expect.
| | |
| --- | --- |
| Composition: | |
| Sounds: | |
| Production Quality: | |
| Concept: | |
| Packaging: | |
| Overall Rating: | |