Maculatum – The Nameless City CD
3 January 2013
xdementia
No Comment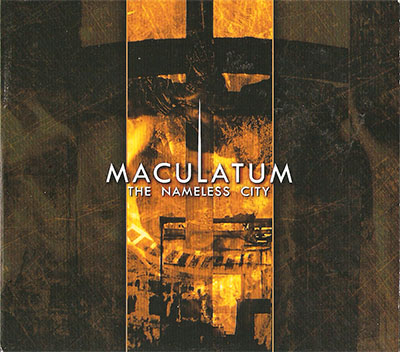 Maculatum – The Nameless City CD
Maculatum is a side project of Collapsar and Rasalhague neither of who I'm that familiar with. In The Nameless City they present several pieces of carefully designed atmospheres.
The general feeling on here is almost of a sci-fi film noir utilizing electronic drones, sound design elements and stylized industrial stings. The atmospheres Maculatum build are quite fragile which makes for a very interesting and detailed execution.
Maculatum skirts on the edge of industrial and even into a slight tribal realm at points which one might think seems off among the futuristic industrial feel of The Nameless City but it manages to fit in quite nicely. Although the album has a very digital and clean production there is grit added very purposefully to achieve a great amalgamation of sounds.
The Nameless City is a very cinematic and aurally arresting record that works well for repeated and deep listening. With their detailed soundscapes Maculatum climb their way to the top of the dark atmospheric industrial scene and I for one hope they stay there for some time to come.
| | |
| --- | --- |
| Composition: | |
| Sounds: | |
| Production Quality: | |
| Concept: | |
| Packaging: | |
| Overall Rating: | |