Swamp Horse – Gravity C45
2 April 2010
xdementia
No Comment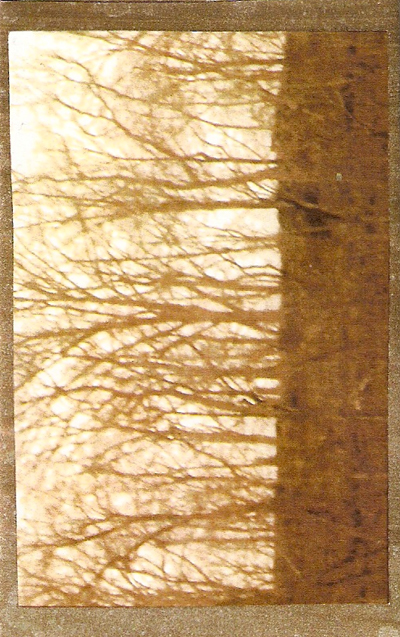 Swamp Horse – Gravity C45
Swamp Horse is 2 man project featuring Josh Lay who records noise under his own name, and an unknown to me; Morgan Rankin. These two apparently create lo-fi drone/experimental with some folk influences. The sounds on Gravity are succinctly exemplified in the artwork which features bleak, muddy textures, a sketchy rendition of horses on one side, and a fading sepia photograph of treetops on the cover.
Gravity consists of two tracks on side A and one longer track on side B. I'm assuming they're all untitled since there is no info stating otherwise on the j-card. The opener kicks in with a picked acoustic guitar and meandering recorded recorded raw. Minimal processing with some popping sounds drenched in reverb and other recorder sounds in the background. There are muffled noisy bursts and echoing industrial sounds here and there. The recorder I find to be a little too all over the place, but over all it makes for an esoteric yet intimate recording.
The second track I find kind of annoying. It consists of some weird field samples of kids fighting, druggies arguing, something like that. Combined with some experimental drones. Eventually the spoken samples are pushed through some distortion which is much louder then the rest of the mix which is already pretty quiet. This one slip adds a seemingly accidental dynamic shift to the whole cassette which makes it appear to be too quiet and reduces the impact of the production and sounds.
Side B is one long track of noisy alternating drones. Starting off with some ambience and evolving into some slow dirges of noise the noisier stuff reminds me quite a bit of Werewolf Jerusalem but combine his minimalism with more textured sounds. This side is much more stream of consciousness then composed or jarring because of this it appeals to me a bit more.
In the end "Gravity" definitely feels like it's pulling me down into the depths of existence. Like Lay and Rankin are watching my life on television and pausing me for the duration of this tape which should be listened on a dreary, gray, lonely Sunday afternoon. It's lo-fi experimental with folk and subtle noise influences. If you've made it this far you probably know what you're getting into.
| | |
| --- | --- |
| Composition: | |
| Sounds: | |
| Production Quality: | |
| Concept: | |
| Packaging: | |
| Overall Rating: | |