Sektor 304 – Subliminal Actions CD
15 January 2013
xdementia
No Comment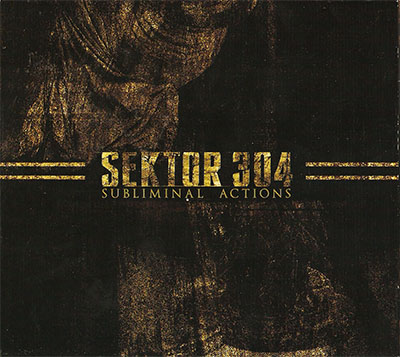 Sektor 304 – Subliminal Actions CD
Here's the second proper full-length effort from this Portuguese industrial project. If you're not familiar with them Sektor 304 performs neo-tribal rhythmic industrial with a raw edge somewhat in the vein of Young Gods and Skinny Puppy.
Kicking off the album with a more abstract intro track entitled A Carving on Metal Skin Sektor 304 make the improvements in production quality here immediately noticeable. This aspect really helps to clarify their sound and makes the percussion hit harder, the vocals more effective, and the noise layers even doomier than before.
As Subliminal Actions presses on, the tribal yet post-apocalyptic rhythmic elements are more prominent here than in their previous works. The tracks are very active and energetic almost dancy, but certainly not enough for any club crowd.
Of course my favorite and I believe the most effective tracks still remain to be the more abstract ones, like the aforementioned opener and the excellent slow-roller Friction. Terminal is also an especially profoundly subtle track being the longest featured on the album.
The following tracks leading us to the conclusion of Subliminal Actions only get better. Sektor 304 steps out of their safe zone with Concrete Islands a sweeping emotional rift that even brings a layer of strings to their sound.
Subliminal Actions sees Sektor 304 evolving their sound and unique style as well as building on the concept of the album in compositional form. The macro structure of Subliminal Actions is very well thought out and constructed as to form peaks and valleys that hold new and interesting aspects for each time they are explored.
| | |
| --- | --- |
| Composition: | |
| Sounds: | |
| Production Quality: | |
| Concept: | |
| Packaging: | |
| Overall Rating: | |