Pacing – Flea Dweller CDr
16 January 2013
xdementia
No Comment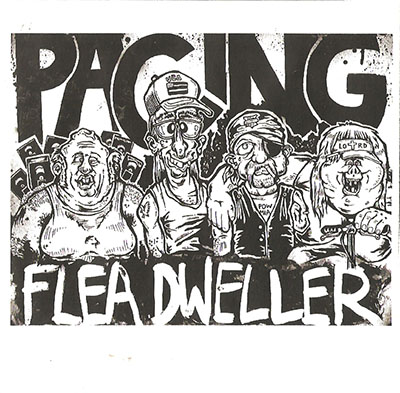 Pacing – Flea Dweller CDr
Here's another little CDr from Buffalo New York's sick boys of noise Pacing. They're back with their style of droning noise and industrial with a slight grindcore influence (in both concept and sound).
Offensive Sobriety is an interesting track that features twisting metallic drones of tortured feedback. It leads nicely into Legless Segway Cruiser which is a more strait-up wall of disgusted noise. As usual Pacing's more aggressive noise still needs a little work in the frequency spectrum but the movement and intensity is there.
The Right Tightness is Rigormortis features a religious monologue layered over worm-like oscillators which aurally builds quite well although the monologue gets quite tiring by the end. The closer Pat Robertson's Inner Demons is one of my favorite tracks here with almost a Brighter Death Now pulse and layers of textured noise joining the fray.
Overall a good release and definitely worth picking up for free here. Pacing reels things in here a bit showing more cohesiveness and consistency within their sound.
| | |
| --- | --- |
| Composition: | |
| Sounds: | |
| Production Quality: | |
| Concept: | |
| Packaging: | |
| Overall Rating: | |