John 3:16 – Visions of the Hereafter – Visions of Heaven, Hell, and Purgatory CD
19 January 2013
xdementia
No Comment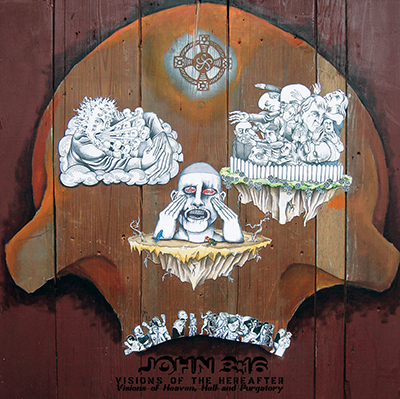 John 3:16 – Visions of the Hereafter – Visions of Heaven, Hell, and Purgatory CD
Here's an interesting release that certainly isn't something I get everyday. John 3:16 creates an ambient style of cinematic post-rock music that may perhaps have a small experimental influence to it as well. There are a lot of different influences and directions involved here but it comes together as something quite unique and presents a consistent mood which delivers more than what I was expecting.
I really enjoy the tracks that are less rock influenced more – like the opener The Ninth Circle but unfortunately they are fewer. That's ok though because John 3:16 manages to create some good atmospheres and textures especially in some of the longer songs that extend the ambient quality.
One thing that I notice is that the album has a very "home studio" type production where the recording quality and playing is good but not great. The reason I notice this is because there is an attempt here to make this sound like a professionally produced album and the tracks are so "musical" in a more traditional rock type way that it is easy to spot having been exposed to countless professional recordings that actually do succeed. If you can get passed this however you can enjoy this music.
There are moments here that remind me of the bands Mono, Sonic Youth, The Trees Community, Explosions in the Sky and a handful of movie soundtracks some being Underworld, and Requiem for a Dream. At times the music even shifts into a cheesy 80s rock soundtrack style which can be quite endearing or mood ruining depending on your outlook.
This is a release for people who enjoy cinematic post-rock type stuff. If you don't mind the music having a bedroom recording studio type quality to it Visions of the Hereafter – Visions of Heaven, Hell, and Purgatory can make for a rather enjoyable listen.
| | |
| --- | --- |
| Composition: | |
| Sounds: | |
| Production Quality: | |
| Concept: | |
| Packaging: | |
| Overall Rating: | |