Crown of Cerberus – Her Strength C32
23 January 2013
xdementia
No Comment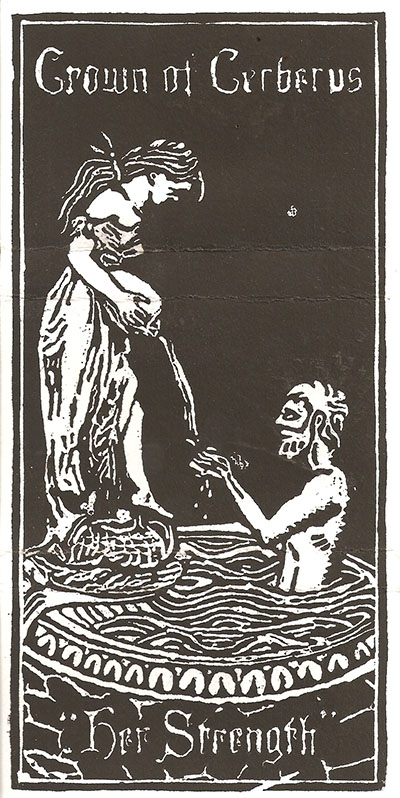 Crown of Cerberus – Her Strength C32
Immediately leaving an impression is the handmade packaging on this excellent tape. Heavy silkscreened stock with a bow holding it all together. The presentation exudes an intimate and spiritual affair which is reflected in the warm and ethereal sounds on the album.
The music is ambient but not necessarily drony, more like moving textures and tones delaying into oblivion. It reminds me a lot of acts like Cold Electric Fire or perhaps Vidna Obmana.
Crown of Cerberus generally emanates an air of peacefulness yet melancholy with the material on Her Strength. The tape is quite consistent in delivering these emotions. The only person mentioned within is to an M.Chami who is credited with "cassette manipulations" which explains a lot after hearing how these tracks are structured and composed.
This is quite an excellent tape and reminds me a lot of ambient music from years passed which is a compliment of keeping old traditions alive. For those of you who prefer quiet and intimate affairs. Perfect for a period of mourning or a rainy day.
| | |
| --- | --- |
| Composition: | |
| Sounds: | |
| Production Quality: | |
| Concept: | |
| Packaging: | |
| Overall Rating: | |