Body Cargo/Pogrom – Resistance CD
26 January 2013
xdementia
No Comment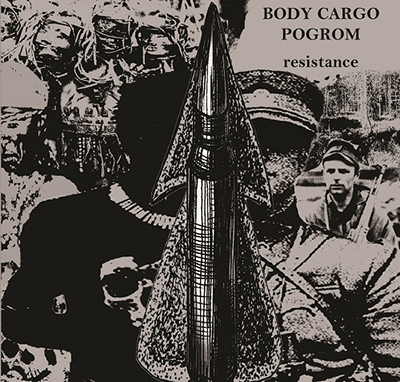 Body Cargo/Pogrom – Resistance CD
Here is a split with 2 collaborative tracks between these 2 power electronics artists. The theme is resistance, gorilla armies, political rebels. There's something about when power electronics artists explore political subjects that I really enjoy.
Body Cargo is up first offering several layered tracks of harsh sounds. The tracks are quite detailed and present a traditional power electronics sound not really bringing anything new to the table but that is fine. Black Smoke Obelisks is worth commenting on because of its more ritualistic chanting qualities which you don't see in pe too often. I also really enjoy some of the textures and heavy passages in Gutpath
Pogrom is a bit more noisy but also falls into a traditional pe style. It's pretty generic stuff but well executed so fans of the genre will not be disappointed. Some of the vocal delivery is done quite well and seems to be Pogrom's strong point.
One major issue with the whole disc – yet moreso Body Cargo's tracks – is that the quality is quite poor. Both project and employ an extremely muddy sound which dulls the edges more than is preferred.
Resistance will appeal traditional power electronics fans who like a lo-fi delivery of traditional sounds. It's a solid offering and both acts show potential but also have room for improvement.
| | |
| --- | --- |
| Composition: | |
| Sounds: | |
| Production Quality: | |
| Concept: | |
| Packaging: | |
| Overall Rating: | |