E.V.P. – The Postmortem Canticles Of Necromancy CD
6 April 2010
xdementia
No Comment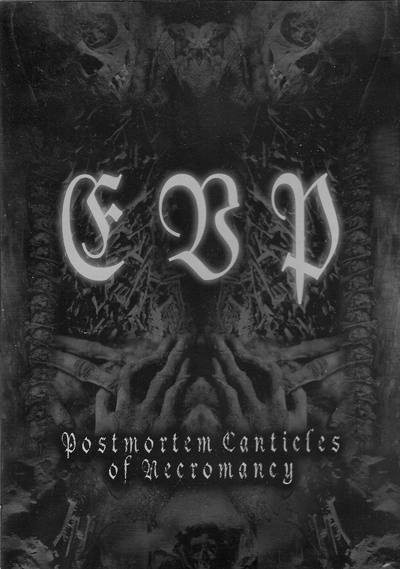 E.V.P. – The Postmortem Canticles Of Necromancy CD
EVP creates music that will fall squarely into the neo-classical genre. If you don't dig that stuff, I'd recommend you stop reading immediately because this is not your cup of tea. I tend to enjoy some of it however, so I was pleasantly surprised when I popped in The Postmortem Canticles Of Necromancy and found an excellently mixed variety of atmospheres, sounds, and compositions.
The first part of the disc focuses heavily on the neo-classical side of things. EVP likes to do a lot of very slow rhythms while heavily layering on the atmospheric elements which I just can't get enough of. True some of this material does wander into "MIDI" instrumentation territory, with probably the worst offender being "The Ever Downward Journey" which uses some pretty cheesy synth pads and is a little heavy on the lighter melodies. But there are also places where I'm guessing classical or film score samples are used very creatively and effectively like in "Flesh Boiling From Bone" and "The Undertow Of Styx" which features clusters of orchestral crescendos that seem to endlessly envelop the listener in a flurry of tremelo strings.
It is The Undertow of Styx which marks the second transition of the disc to a more ambient/noise/industrial sound. The next few tracks still have those orchestral elements, but the sound design and electronic elements come to forefront especially in "Censecration De Profundis," which somehow mixes gregorian chant with unashamedly flanged synth pads quite successfully. The ambient/noise foray reaches it's pinnacle in my personal favorite track on the disc "May The Dead Speak" which features a ton of sounds mixed perfectly and layered deeply to produce a lush environment conjuring up all kinds of images. There are just a ton of great sounds here and EVP manages to mix it all together so well.
The tracks get a bit more of an ethnic feel after that while still keeping the elements that were featured beforehand on The Postmortem Canticles Of Necromancy. Listening to "Beltain (As Locust Descending Upon New Life)" as it brings me into this strange Middle Eastern world makes me realize the sheer vastness of The Postmortem Canticles Of Necromancy and how it is almost the auditory equivalent of a concept like traveling around the world in 80 days, except in this case it may be in lieu of trying to escape a horrible epidemic, or perhaps a plague of undead.
If you are at all into creepy film scores from the 70s and 80s, 90s video game scores, or projects like The Protragonist, In Slaughter Natives, Pimentola, or Der Blutharsch I would highly recommend you pick up this detailed and radiant effort. The cheap and colorless graphic design on the standard plastic DVD case greatly does this release a disservice because The Postmortem Canticles Of Necromancy is anything but cheap and colorless. It is an album that teems with imagination, creativity, and an intuitive creepiness.
| | |
| --- | --- |
| Composition: | |
| Sounds: | |
| Production Quality: | |
| Concept: | |
| Packaging: | |
| Overall Rating: | |