Being/A Snake in the Garden/Diaphragmatic – July 2012 Tour C30
30 January 2013
xdementia
No Comment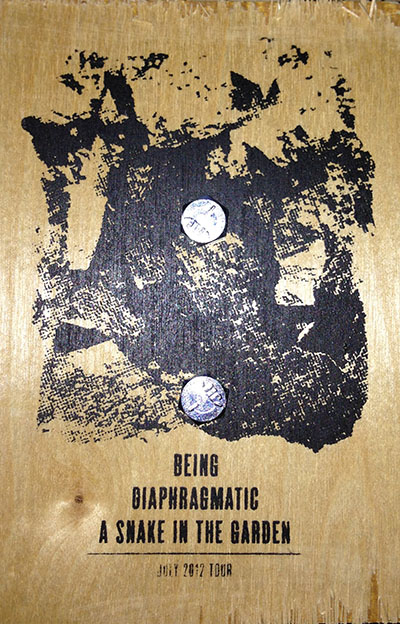 Being/A Snake in the Garden/Diaphragmatic – July 2012 Tour C30
Self Released
This is a seriously stacked lineup of some of the best harsh noise acts currently active in the U.S. scene today. For those most addicted noise fanatics they have also posted an epic tour video that spans many performances from this exact tour. With this tape each artist contributes a track and then they wrap it up with a massive 3-way collaboration. Quite the piece of ear candy for those with rotting teeth out there..
A Snake In The Garden is up first giving us a variety of uncomfortable textures – always keeping things grimy but crispy clear. Being is up next with For Your Convenience which I can only imagine is the sound of receiving electroshock therapy.
Side B brings Diaphragmatic's contribution of even crunchier junk noise. Super raw yet entrancing the grime builds throughout the track until it can't possibly get any muddier or broken down. The collaboration here simply titled Collaboration – these guys are all business – is a perfect amalgamation of all three acts yet I would say it's even more than the sum of its parts.
This is a totally sick release in every aspect. Odd/annoying yet aesthetically pleasing packaging is the icing on the cake here. If anyone wants to get a taste of true cutting edge and first class American harsh noise they need to hear this shit.
| | |
| --- | --- |
| Composition: | |
| Sounds: | |
| Production Quality: | |
| Concept: | |
| Packaging: | |
| Overall Rating: | |