Deprivation – From the Gutter to the Grave C30
31 January 2013
xdementia
No Comment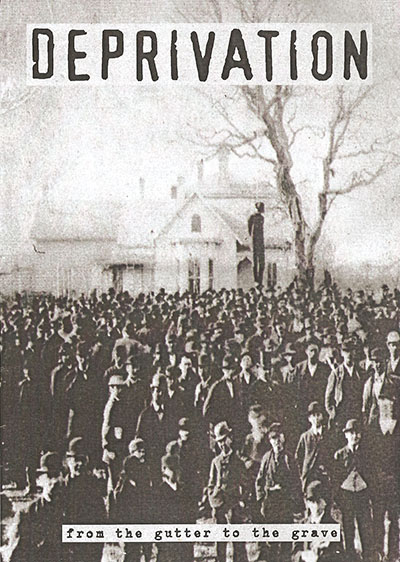 Deprivation – From the Gutter to the Grave C30
Here's some extremely lo-fi and raw power electronics/death industrial delivered in a black plastic bag, you know the kind they put liquor or porno into after purchasing it. Worth mentioning is that the tape comes with a simple photocopied art booklet to further explore the concepts dealt with in the album.
Repetitive samples, darkened noise textures, walls of distortion and experimental weirdness is all something you'll find within the album. The first two tracks are a good showing of noise/pe but the standout track on side A is Mesmerized which focuses less on aggression and more on experimentation and carefully placed synth elements.
Side B opens with the building The Black Streams of Refuge and it's this track that makes me realize the style that Deprivation employs is quite reminiscent of Climax Denial. Crawl Towards the Light has similar elements to Mesmerized which shows a strong sense of macro structure as Deprivation brings things back to wrap of the release.
The biggest hurdle that keeps this material from being really effective is the terrible production. It is extremely muddy which dulls the edge way too much. As for the packaging, although it has some effort the different elements don't really hold together well so it comes off as more of just a loose bag with some stuff in it – very awkward for storage.
| | |
| --- | --- |
| Composition: | |
| Sounds: | |
| Production Quality: | |
| Concept: | |
| Packaging: | |
| Overall Rating: | |