Failing Lights – Failing Lights CD
1 February 2013
xdementia
No Comment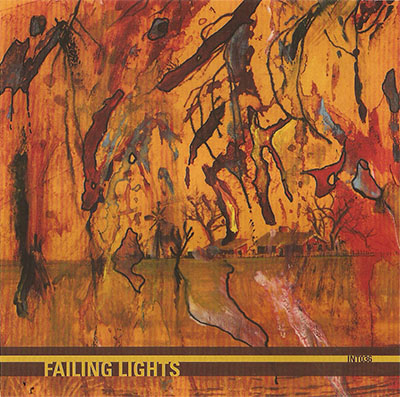 Failing Lights – Failing Lights CD
This is actually my first exposure to the project even though this was released a while ago. For those who don't know Failing Lights is the primary solo project of Mike Connelly, also known as 1/3 of legendary noise units Wolf Eyes and Hair Police. He lives in Michigan, where he runs the Gods of Tundra label.
This self-titled release runs a gamut of various styles and sounds. Some droning noise, sound collage, and even free improv influences. Clocking in at 39 minutes the album is oddly paced with the first 4 tracks being quite short and going by quickly.
Moon on the First Hunt is a great opener and shows the noisier side of Failing Lights' work. Revealing Scene is the most eclectic track here as far as sounds and styles go, with echoing bowls and metallic percussion joined by reverberating strings yet breaks into abstract noise halfway through once again revealing the odd pacing.
The album ends with the epic and more slow paced The Comfort Zone which evolves over the course of its 18 minute running time. From slow picked guitars to drones and finally to noisier textures. It's well composed and layered.
This is definitely a solid album showing a lot of thought and tactfulness in instrumentation and composition. Nothing too subversive here but a good showing of strange and beautiful sounds for the eclectic noise traveler.
| | |
| --- | --- |
| Composition: | |
| Sounds: | |
| Production Quality: | |
| Concept: | |
| Packaging: | |
| Overall Rating: | |