Ophibre – Drone Works for Differing Audio Formats and Encoding Methods CDR
7 February 2013
xdementia
No Comment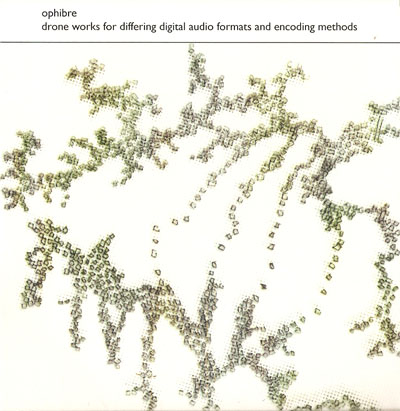 Ophibre – Drone Works for Differing Audio Formats and Encoding Methods CDR
Here's one for all the audio geeks and the just plain curious. Drone Works for Differing Audio Format and Encoding Methods is just that, a disc that; a disc that is in the .cda format (data is arranged as a regular 'playable' CD) which features audio that was once encoded in the format that the track was named after.
So since each track is named the exact type of audio encoding that was applied to the source it's pretty easy to decipher how each file sounds; and it's quite impressive the variations that are achieved here. Essentially, it's the same seamless drone loop but just encoded different ways, yet Ophibre has neatly crossfaded them into one another to create a continuing drone composition that spans a gamut of differing frequencies and sonorities.
The first few tracks bear the greatest resemblance, they are encoded in .mp3 format and slowly degraded in KBPS. The subtle changes are hard to hear when listened consecutively but with some skipping around you notice the audible changes. It isn't until track 9 aptly title .aiff, 2.4 MB, 6300 Hz, 7 bit, PCM, 88 KBPS that things really begin to change, noting that a difference in bit rate makes a large impact on the shape of the waveform as it is perceived by our ears. The following tracks lead us through a variety of glittering square waves, degraded sound, and eroding frequencies.
Not only is this an enchanting experiment, but the results are well tailored to be engaging and satisfying. Conceptually and sonically it reminds me quite a bit of William Basinski's The Disintegration Loops release. If you enjoy that kind of meditative natural decay you are sure to find solace in Ophibre's experiments.
| | |
| --- | --- |
| Composition: | |
| Sounds: | |
| Production Quality: | |
| Concept: | |
| Packaging: | |
| Overall Rating: | |