Pulsating Cyst – Horrible Signal 7"
8 February 2013
xdementia
No Comment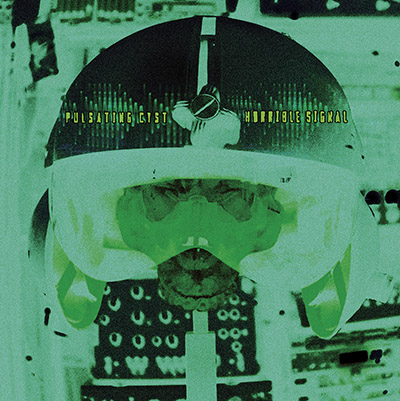 Pulsating Cyst – Horrible Signal 7″
Here's a release where neither artist nor label rings a bell, but there's a sticker on the package that boasts glow-in-the-dark vinyl! You have my attention. Deep green artwork with card stock inserts and stickers make this a worthy fetish item before even spinning it.
The material here was recorded from live performances so it's good you can get an idea of what the project sounds like live. Luckily the quality isn't held back at all from this because the production is very thick and up front. Side A lives up to the names of both the album, and artist not too mention the track is entitled Alien. Huge squiggly bass pulses are repetitively beaten into your skull with added fx alternating sounds and textures. A really great showing of simple synth-based death industrial sounds that also end in an excellent lock groove that makes the track continue into eternity.
Side B is split into two tracks, the first being Monster which follows along the lines of side A but is a touch less rhythmic. The second and closing track Broadcast features some more experimental delayed synthesizer oscillations ending in a wash of field samples and once again leading into a heavy locked groove which I let myself enjoy for a minute or two as a nice exclamation to the end of the release.
Horrible Signal is a great release all around with excellent showings in each rated category. The style much reminds me of the work of Xombie. Recommended for experimental weirdos, synth nerds and vinyl collector geeks.
| | |
| --- | --- |
| Composition: | |
| Sounds: | |
| Production Quality: | |
| Concept: | |
| Packaging: | |
| Overall Rating: | |