Autocancrena – Homo Sacer 3"CDr
16 February 2013
xdementia
No Comment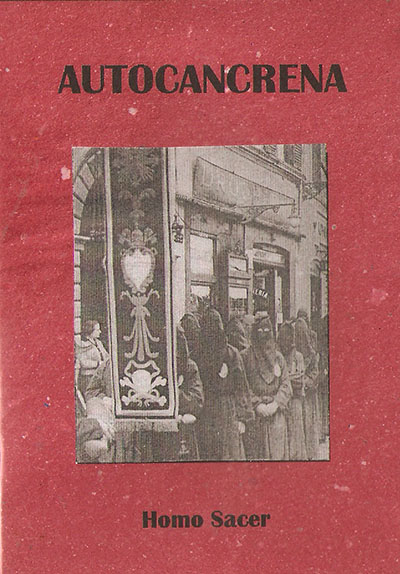 Autocancrena – Homo Sacer 3″CDr
Here's a very nicely packaged 3″CDr, a step above what I've seen from Diazapam already. The artwork is simple and portrays the sound on the disc accurately which is also quite basic in its delivery.
The disc contains two tracks the first Malsana Dottrina is a simple dark ambient piece with delayed and reverberating chants being quite organic and meditative. The second track is more electronic with sinister electronic pulses, muffled samples yet also remaining minimalistic.
The material here reminds me of the quieter moments of Brighter Death Now with a touch of more organic ritualistic ambient thrown in. Definitely a solid effort and good release through and through.
| | |
| --- | --- |
| Composition: | |
| Sounds: | |
| Production Quality: | |
| Concept: | |
| Packaging: | |
| Overall Rating: | |