Ginger Leigh – Merchant of Death CDR
10 April 2010
xdementia
No Comment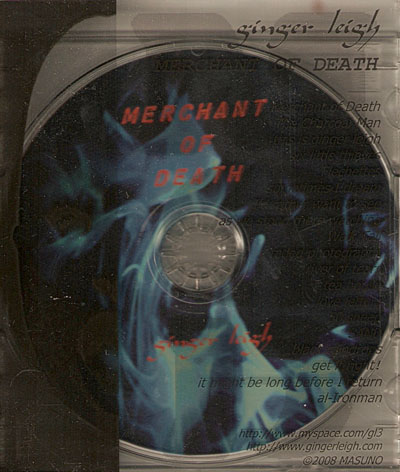 Ginger Leigh – Merchant of Death CDR
Self Released
Here is another disc by Ginger Leigh, once again bringing the strange, Middle Eastern psych rock mixed with the rare noise outburst and distorted vocals. It's like a sample-based Muslimgauze because this feels more like someone got their hands on a large library of old-school psych records from Cambodia (yea, Africa I know, still a similar sound) and edited the tracks ever-so-slightly adding an electronica element here, and experimental noise element there.
With 19 tracks on Merchant of Death it's pretty surprising how consistent Ginger Leigh is with his sound. I would think that the disc would be all over the place, but the tracks are always a bit hypnotic, rhythmic, repetitive with sampled elements augmenting the songs to add a sense of movement and dynamics that works well. Although there are hints of vocals in "The Charcoal Man" it's not until "Six Little Thieves" where there are actual decipherable vocals, keeping it quite simple of course: "Here they come again, those six little bastards, here they come again, those six little thieves." Though I have no idea the background or origin of whoever the fuck is behind Ginger Leigh, I am just a little surprised that the lyrics are not spoken in a language that seems like it might fit the origin of the music a bit better.
I can't help listening to Merchant of Death without thinking of how similar it sounds like something that could come from Sublime Frequencies or some other ethnic music documentary label. This is a good thing, because I really enjoy this kind of stuff and combined with the subtle sound design, noise, and electro elements it becomes just a bit unpredictable. Merchant of Death is a mash-up of culture, post-modernism in all it's glory.
My main criticism is that with the vocals in "Sometimes I Dream" being simply "Sometimes I dream of doing bad things." I wonder at the concept of these tracks. It seems to lose some of the depth and mystery that could be quite effective with music like this, and makes it much more "noise for noise' sake" then I would prefer. Without these kind of "fucking around" lyrics you could listen to Merchant of Death and think it's got some kind of cryptic agenda, hidden messages abound, subliminally infesting your mind as you enjoy the entrancing ethnic loops. But that element is stripped away with the occasional immature outburst and playful electronica beat or unnecessary noise blast.
Merchant of Death is certainly a strange beast and in that lies it's strengths. There isn't much of anyone beyond Muslimgauze doing this kind of thing that I know of, and Ginger Leigh goes into even stranger territory then Muslimgauze treaded, at least to my knowledge. If you enjoy Middle Eastern influenced music mixed with subtle noise and experimental influences I would recommend this. If Ginger Leigh could hone his concept and narrow his added influence to these tracks just a little bit it could add a lot of needed weight to hold down the concepts a bit more. I also wouldn't mind the noise/industrial and far out sounds intruding a bit more. Overall, a very strange and confusing artistic vision here, but one that is quite an enjoyable listen.
| | |
| --- | --- |
| Composition: | |
| Sounds: | |
| Production Quality: | |
| Concept: | |
| Packaging: | |
| Overall Rating: | |