Urna – Liber Lelle CDr
13 March 2013
xdementia
No Comment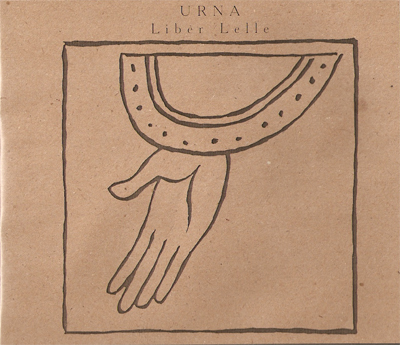 Urna – Liber Lelle CDr
Here's a beautifully delicate arrangement of ritualistic ambient sounds – I believe from Italy? – released on Russian label Abgvrd. The basic drawn artwork doesn't really compare to the subtle and atmospheric sounds represented here which are quite distinct.
Among the instruments listed in use on Liber Lelle are bells, cymbals, mandolin, balalaika, zither, accordion, and flutes. These instruments do not generally make a presence through traditional means but instead they are used to create sparse compositions of musique concrete and minimal atmospheres. However, it gives the music of Urna a very organic overtone.
The music of Urna has mostly a melancholic and mysterious emotion attached to it. This is best demonstrated in the track L'abbraccio Di Cristo Morto which makes particular use of the accordion and reminds me quite a bit of Chaos As Shelter, an artist that I think is very similar in style to Urna.
Liber Lelle is a great album and one that is perfect for those meditative times of introspection. The sounds are delicate and effective while continuing to be engaging. It is clear that the hand of Urna is one that is well acquainted with restraint and talent. Excellent work.
| | |
| --- | --- |
| Composition: | |
| Sounds: | |
| Production Quality: | |
| Concept: | |
| Packaging: | |
| Overall Rating: | |