Seplophobia/Post-Mortem Junkie – Split CDr
16 March 2013
xdementia
No Comment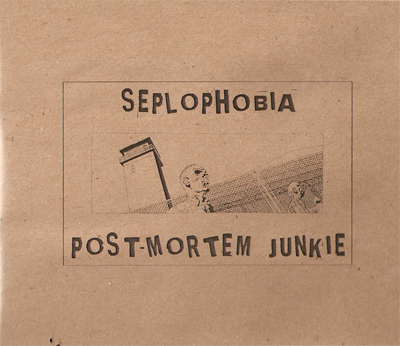 Seplophobia/Post-Mortem Junkie – Split CDr
This is a reissue of a split tape that seems to have been already re-released twice. Abgvrd's version marks perhaps the third time this release is seeing the light of day. The split seems like a good matchup based on the artist names with the literal meaning of Seplophobia meaning "a fear of decay".
Seplophobia kicks off with a quick horror film sample and immediately leads into a distorted bass dirge of pure crunchy noise. The track remains this way with little evolution. Only some frequency shifts here and there slowly morphing but quite a nihilistic showing in summary.
Post-Mortem Junkie's material is along the same line but features less bass and more midrange attacks. Long slowly morphing noise, quite lo-fi yet with a touch of atmosphere as well.
Both projects hit me right at the same level. Where, although I enjoy the basic sound ideas here the tracks just don't hold much weight and in the end are rather forgettable. I'm not too into the weird basic drawing that makes out the graphic design here either. In conclusion I find the release to be rather underwhelming.
| | |
| --- | --- |
| Composition: | |
| Sounds: | |
| Production Quality: | |
| Concept: | |
| Packaging: | |
| Overall Rating: | |