Death Factory – Machinen Untter Kontrolle CD
20 March 2013
xdementia
No Comment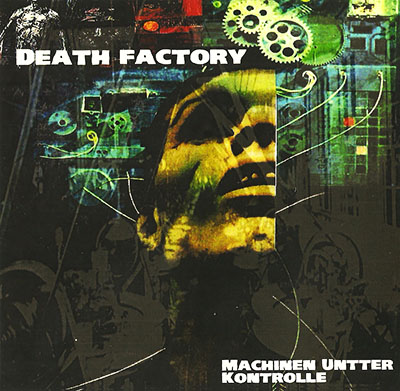 Death Factory – Machinen Untter Kontrolle CD
I couldn't think of a more appropriate name for a death industrial project as Death Factory. Luckily they represent the genre well and Machinen Untter Kontrolle follows up the excellent Chilling Impressions tape perfectly.
The album kicks off with the title track which is a throbbing attack not unlike something offered up by Brighter Death Now. The following track Manifestation of Fear (3rd Version) is a continuation on a track that appeared in previous tape and it features a great combination of rhythmic industrial and death drone.
Death Factory really embraces all styles of death industrial influences here which is what really makes the record. At times he uses throwback influences ranging from Atrax Morgue, to Megaptera and the aforementioned BDN. It's really a great combination and at certain moments it feels like he is clearing paying homage to the artists.
On the second half of the disc Devolve/Shatter the Glass Tower (Part 2 Brutal Mix) takes over with it's range of sounds and odd fuckery. Demitri's Dilemma is where Death Factory hearkens to Megaptera with the use of creepy horror film samples which are very well executed. One really great aspect of Death Factory's work is that the drones and noise are often broken up with related experimentation in a start/stop and manipulate kind of pattern and then resumes where it left off. This adds an interesting and engaging dynamic to the tracks and is something that not a lot of pe/industrial artists do.
Definitely a great release with excellent artwork and presentation. Production is great as well, even in the live recording which manages to not break things up too much. Really nice work from both the label and artist.
| | |
| --- | --- |
| Composition: | |
| Sounds: | |
| Production Quality: | |
| Concept: | |
| Packaging: | |
| Overall Rating: | |