Sharpwaist – The Night Of and Morning After C22
11 April 2010
xdementia
No Comment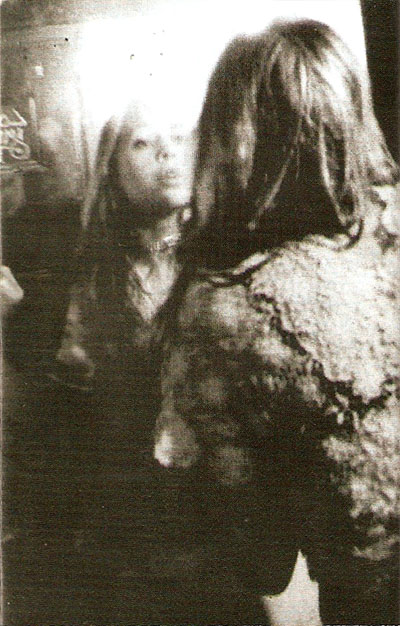 Sharpwaist – The Night Of and the Morning After C22
Unnggghhh, this tape is like a fucking heavy punch to the gut. I've been experiencing Carl Haas' live assaults as Sharpwaist for quite sometime now, and sometimes it stabs like a knife in the back, sometimes it's a raw thud in the gut. But after hearing a few of his releases I've noticed he has some trouble capturing all the ferocity of his live performances. Apparently this is an issue no longer because with The Night Of and the Morning After, Sharpwaist delivers to full effect. Haas absolutely crushes everything in his path with this short cassette and leaves nothing but heartbreak and devestation in his wake.
I can describe one song here and I'd be describing them all. Pulsating feedback, screeching noise, in-your-face screaming, pissed off vocals. Wailing sirens crying for the victims of these 4 hateful crimes, each one putting Haas in the slammer for life. No air, no room to get louder, The Night Of and the Morning After is in the red from start to finish. There's no turning back, no remorse. Power electronics delivered harsh, raw, dry vocals with little-to-no added effects. At least something in Haas's life is dry.
The gritty black and white photos that adorn the artwork to this tape tell you all you need to know, but if photos are worth a thousand words then these 4 tracks are worth a thousand actions. As if the photos of men groping strippers and dead prostitutes weren't enough for you, titles like "Spilling Out Everywhere", "Drugged Self Disgust", "Windsheild Facial", and "Highway Girl/Parental Grief" let the rest of this sordid tale out into the open.
This is one for the true crime fans. Clearly bringing to mind influences on Climax Denial, Death Pile, and Slogun. It's more score for yer buck. Seems like so many fans just can't get enough of this stuff and I am certainly one of them.
| | |
| --- | --- |
| Composition: | |
| Sounds: | |
| Production Quality: | |
| Concept: | |
| Packaging: | |
| Overall Rating: | |