V/A – Untitled C60
22 March 2013
xdementia
No Comment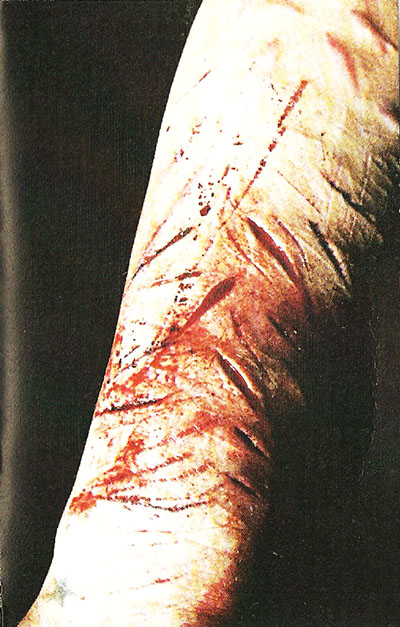 V/A – Untitled C60
At four different artists on a release I am making a judgement call and labeling this a compilation. Especially when it's only a C60. What is presented here is some violent shit. A layout featuring cut-up and bloody arms and a group of depraved artists creating heavy-as-all-fuck noise this is some serious shit. The only issue I have with the layout is that the text is really hard to read.
Shattered Hymen is up first with a wall of junk noise. They cover a wide spectrum of frequencies but this is all a distorted squall of bent metal, seething distortion and pummeling wrath. Hatebasement is up next with Semenalized Quim which features more layered harsh noise attacks. The blast is unrelenting remaining at full volume all the way through, less junky than the Shattered Hymen track but still utilizing vicious textures to scrape at the listener's sanity.
I'm happy to report that Hadals finally changes things up a bit with their track Swaddled In Bape. Not really sure what the fuck is going on with the title of the track but this is some great cold hard industrial drone with noisy tendencies. Seriously feels like being cut open on a cold surgical table, definitely my favorite track here. Fantasy Island closes things down here with their cryptically titled Chris Brown. I don't know who this dude is but he must be filled with a metric shit ton of pure hate. Total cut-up harsh noise with a razor sharp edge neatly draws and quarters what's left of the listener to finally shut this release down.
All-in-all a burly release with mostly blazing white-hot hate with the exception of Hadals' excellent cold ambient/noise track which stands a foot above the rest here. Although the harsh noise is quite well executed and not to be ignored. For the morally barren among you.
| | |
| --- | --- |
| Composition: | |
| Sounds: | |
| Production Quality: | |
| Concept: | |
| Packaging: | |
| Overall Rating: | |