Thisquietarmy – Black Haunters CD
27 March 2013
xdementia
2 Comments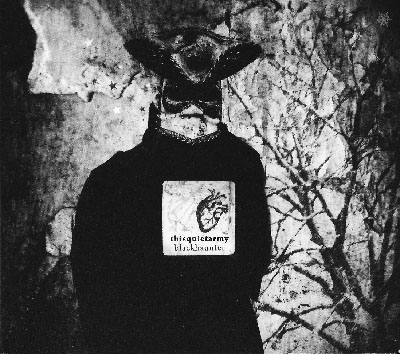 Thisquietarmy – Black Haunters CD
Black Haunters really threw me for a loop after having only some bare knowledge that Thisquietarmy is a guitar drone act. I guess I have a certain prejudice for these acts that mix ambient with post-rock to be rather bland and generic. It turns out though that Thisquietarmy is anything but that and they show it well on Black Haunters and epic full length that demonstrates a gorgeous mix of ambient, drone, and post-rock.
Easing the listener into the album with the first 2 tracks the mood is set as dark yet somewhat peaceful and somber. The production is stellar with clarity being a huge factor and letting the floating tones ring out into eternity with large lush reverbs.
It's not until the 3rd track Vampyr is well into it's running time when backing drums and picked melodies come to the forefront but by the time this happens the listeners have been worked into it and it seems to be the next natural progression for the project's sound on the album. From this point on Thisquietarmy merges all the elements that are touched on together succinctly to form a monolithic and emotional work which is very effective.
The thing I like about Thisquietarmy's style is that he embraces all the genres that he glides between with open arms and excels at each one of them. At 41 minutes this is the perfect running time for such a work. For fans of Tarentel and Troum.
| | |
| --- | --- |
| Composition: | |
| Sounds: | |
| Production Quality: | |
| Concept: | |
| Packaging: | |
| Overall Rating: | |