Merzbow/Actuary – Freak Hallucinations LP
11 April 2013
xdementia
No Comment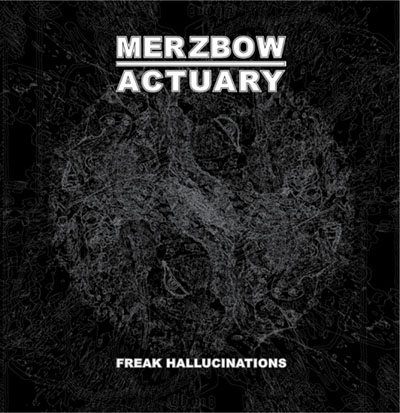 Merzbow/Actuary – Freak Hallucinations LP
Obfuscated Records/Love Earth Music
It feels like it's been ages since I've reviewed a Merzbow release but now I'm remembering it wasn't that long ago having reviewed his LP on Blossoming Noise which unfortunately was sonically completely forgettable. Now I am faced with a split between Him (capitalized because Akita is of course, the God of noise) and up-and-comers Actuary who seem to be getting around a bit lately.
Merzbow is up first utilizing a digital feel with crazy atonal computer babble accompanied by some rather weak distorted layers. It's frantic and discombobulated. Eventually the track evolves into throbbing industrial loops and glassy breaking textures strewn about on top to reach a more formidable structure. Merzbow's current material is a hard thing to review these days with the orgasmic heights he has acheived in his career it's weird to hear a work like this and not hold it to a greater scale.
Actuary kicks things off in a more gothic vein with alternating organ harmonics and horror movie samples in Only Ghosts Hate New Things. Slowly building crunchy noise elements leak in to form a seething, slithering mix of experimental noise with creepy echoing elements. Once Inhuman Bondage has run it's course it's clear that Actuay is not focusing on merely harsh experimental noise, but on industrial music with atmosphere. Ritual Embrace is the closer here and starts off like a Wolf Eyes track with mean bass hits and slowly building airy noise. The track builds perfectly into a cacophony of whirring electronics and brutal vocal deliveries reaching a high point of the LP and offering an excellent and strong statement to close things out.
It's a strange day to experience Merzbow being shown up so intensely by his more contemporary counterparts. His material here doesn't really appeal to me at all but it's great to hear Actuary making huge strides in delivering an increasingly intense barrage of sickened sounds.
| | |
| --- | --- |
| Composition: | |
| Sounds: | |
| Production Quality: | |
| Concept: | |
| Packaging: | |
| Overall Rating: | |