Gnarly Sheen – Tansit of Venus CDr
14 April 2013
xdementia
No Comment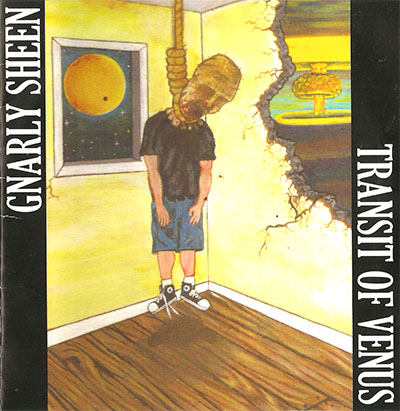 Gnarly Sheen – Tansit of Venus CDr
Gnarly Sheen is a new name to me, obviously a take on the actor Charlie Sheen who has actually become pretty gnarly himself. Simple packaging surrounds this limited disc which contains 7 tracks of varied synth music in 28 minutes.
The majority of the disc falls into the more musical realm of things using synths, drum machines and employing various melodies and harmonic tones. The music is roughly strewn together and also roughly performed. There are elements of drone, kraut rock, and early synthesizer music all featured here.
I am personally not really into this. It's a decent effort but one that falls short to interest me in any musical capacity and certainly not in any abstract way. It's too all over the place and lacks a sense of cohesion trying to be many things it's not (see the sludgy riffs in Three Rows of Jagged Teeth) and not achieving the things that it is.
The main barrier preventing me from writing a really effective review of this record is that I just don't like it much, so it's hard to pinpoint the strengths vs. the weaknesses when i just don't really even want to listen to it. The only positive thing I can say about the record is that it is quite playful and you can tell the artist had fun while creating it.
| | |
| --- | --- |
| Composition: | |
| Sounds: | |
| Production Quality: | |
| Concept: | |
| Packaging: | |
| Overall Rating: | |