Jute Gyte – It was a Great Marvel that He was in the Father Without Knowing Him 3″CDR
15 April 2010
xdementia
No Comment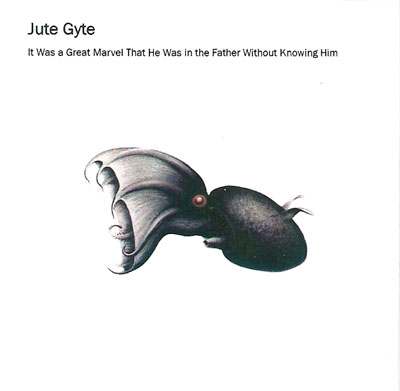 Jute Gyte – It was a Great Marvel that He was in the Father Without Knowing Him 3″CDR
Here's a little three incher blast of noise and subversive atmosphere from the enigmatic Jute Gyte. Not sure exactly why this project seems so strange to me but there's something about the titles, the sounds, the overall feel of his work that has depth to it. It was a Great Marvel that He was in the Father Without Knowing Him is no exception, and it's impressive how Jute Gyte can manage to both say so much, and so little at the same time with this 21 minute track that spans the entirety of the disc.
Immediately noticeable is the strange samples that permeate the start of the album. Blasts of thick noise, panning and changing in dynamics join up with quiet, glassy, ambience casting a pall on the recording. However, the most prominent element in this passage would be the unnerving samples. Sounds of people crying, choking, sucking?, vomiting?, whispering in some kind of language, maybe French? I can't really tell. It's edited and cut up, panning, cutting in and out, sometimes in the background, sometimes right up to whatever microphone recorded this. Very jarring and disorienting, and most importantly a unique auditory experience.
Finally, a blessed moment of silence, but one that has ominous overtones as well before the noise textures blast in at full volume. No longer cut up, but flailing like a whipping high pressure water hose with no one to hold it steady. This continues for about 3 or 4 minutes letting the wall of nasty, thick noise sink in. It doesn't change much but it's dynamic enough alone to focus on for the given amount of time.
The noise finally starts to break down and go back to where it came from, the jagged panning cuts returning, interrupting the wall and fading out into some metallic shimmering harmonic movements. The new ambience presented is bright and tonal, a more peaceful place but still with a wavering edge. Soon joined with some lower drones, and glitch sound effects it creates yet another solid atmosphere. It's rather strange when everything is suddenly cut off at the end, but it's obviously part of the concept because of the jarring cut-ups featured in the beginning of the disc.
I think the great thing about It was a Great Marvel that He was in the Father Without Knowing Him is that it's a perfect piece for a 3″CDR and uses the format to it's advantage. The sounds are well developed here, the composition and atmospheres are mature, well thought-out and quite unique. Definitely a great release, Jute Gyte's sound here could best be described as if Gordon Ashworth combined his projects Concern and Oscillating Innards into one. Very nicely done.
| | |
| --- | --- |
| Composition: | |
| Sounds: | |
| Production Quality: | |
| Concept: | |
| Packaging: | |
| Overall Rating: | |