Ex.Order – The Law of Heresy CD
25 April 2013
xdementia
No Comment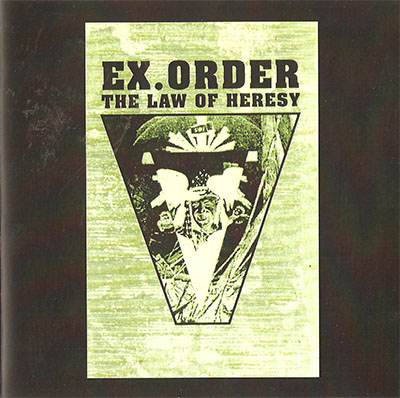 Ex.Order – The Law of Heresy CD
Ex.Order is the side project of René Lehmann and Knut Enderlein who mainly function as dark ambient powerhouse Inade. For the uninitiated Ex.Order is the more noisy, power electronics side of the duo. This release is a re-issue of the original tape released in 1997. It sounds like the material has been remastered well though, as the recording is crisp and clear while retaining its lo-fi origins.
The Law of Heresy represents all that was great about industrial/pe in the late 90s. Simple song structures with intense samples and loops. It's raw, and uncompromising while also hitting hard. Not to mention the usage of sound tends to be quite creative in tracks like Under Pain and The Pulse of Violence.
Other outings recall heaviness as it was back then with tracks like Crawling From The Ground utilizing pulsating synths in pummeling Strom.ec fashion. Nies Blanker is another destructive attack on the senses with moments conjuring up a distorted version of the member's other project Inade.
With 10 tracks totaling almost 50 minutes The Law of Heresy represents some of the best of 90s industrial and power electronics with various atmospheres and an eclectic landscape of sounds with heavy thematic elements tying it all together. This is Ex.Order operating in their heyday, and an essential document for any industrialists collection.
| | |
| --- | --- |
| Composition: | |
| Sounds: | |
| Production Quality: | |
| Concept: | |
| Packaging: | |
| Overall Rating: | |