The Infant Cycle – Left Ear Revolt CDr
28 April 2013
xdementia
No Comment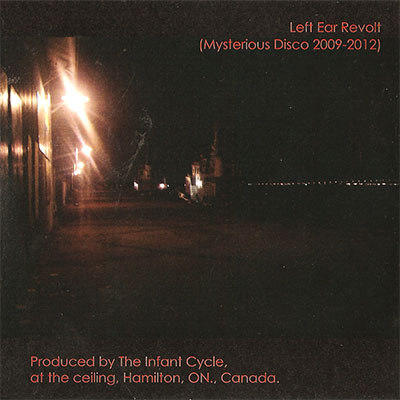 The Infant Cycle – Left Ear Revolt CDr
The Infant Cycle is another previously unknown project to me. On Left Ear Revolt they present roughly 53 minutes in 9 tracks of varied experimental electronica styled sounds.
Most of the tracks here are in the repetitive drone style of things with clean harmonic synthesizer sounds slowly evolving among a bed of various glitch accents. It has a very laid back vibe to it, modern and electric.
There are other stylistic elements added here and there like the brief industrial sounds in track 6 which are quite enjoyable. Various machinery echoing into a wasteland and accompanied by howling sounds. The most comparable artist I can think of to The Infant Cycle would be Fennesz but that is probably because I am not too well versed in this style of music.
I'm not particularly won over by the bulk of the material here, but then again I don't really think it's my style although I do enjoy stuff like this from time to time. There are some stronger tracks like Charlotte No. 3 but mostly the tracks use similar synth patches that are more on the plain side, so emphasis is put on harmony. This is one for fans of drone/glitch/electronica.
| | |
| --- | --- |
| Composition: | |
| Sounds: | |
| Production Quality: | |
| Concept: | |
| Packaging: | |
| Overall Rating: | |