Aiden Baker & Thisquietarmy – Orange CD
29 April 2013
xdementia
No Comment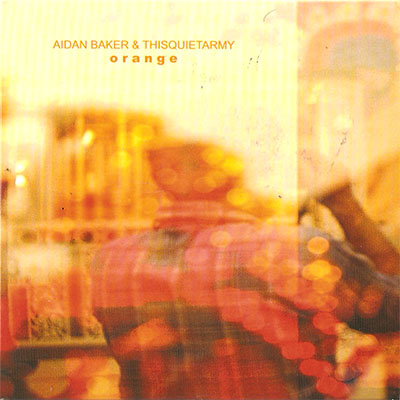 Aiden Baker & Thisquietarmy – Orange CD
Orange is a heady disc chalked full of resplendent guitar drone from these two artists. The disc features blurry, dreamy orange art in a slick slipcase. Clocking in at 46 minutes it contains 8 tracks of glistening atmospheres.
The tracks seem to melt into one epic journey with an ever-evolving centrifuge of sound. Ebbing and flowing from high mountain peaks into deep abysmal depths there are moments here that feature controlled synth noise, soaring harmonies and even some subtle melodies here and there. I think maybe my only complaint is that the ebow sounds can get a touch tiring, and perhaps the sounds aren't so incredibly creative given that most of the time it sounds like guitars.
But the artists manage to change things up enough where the different textures and elements vary to once again draw in the listeners interest. Sweeping melancholic moments like Crush are some of my favorite here with the composition at times reminding me of Bloodbox.
All in all and great collab that will most likely appeal to guitar drone nuts also into acts like Troum, Aun, and Locrian. But this is very well produced and composed which makes me think it can possibly appeal to folks into either post-rock or dark ambient as well. Good work.
| | |
| --- | --- |
| Composition: | |
| Sounds: | |
| Production Quality: | |
| Concept: | |
| Packaging: | |
| Overall Rating: | |