Pusdrainer – Sexual Revulsion C33
30 April 2013
xdementia
No Comment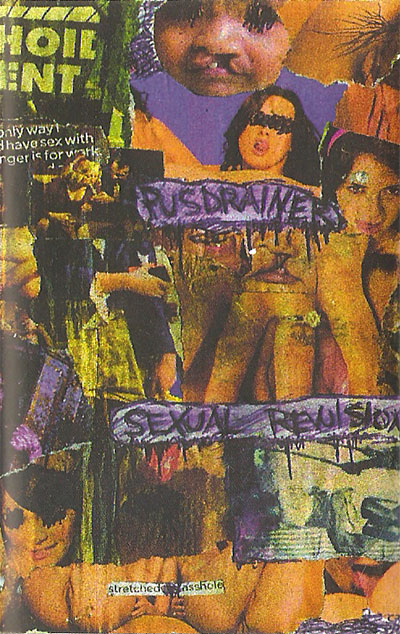 Pusdrainer – Sexual Revulsion C33
The lo-fi collage artwork on this disc much reminds me of an 80s horror flick like Street Trash or something which is pretty much along the same lines of Pusdrainer's aesthetic. A very nicely done job by Danvers State Recordings and a quick preparation for the grimy sounds inside.
This is possibly the most raw Pusdrainer recording to date, yet it's also quite a full spectrum of sound. Although in the description from the label it says this is close to wall noise I might object. Even though the textures are very overwhelming and enveloping the sense of evolution and morphing in each track is palpable. Huge masses of sound are surged from rumbling lows to insane highs, from brown to white noise. Finally some vocal attacks.
Side B ups the intensity with a more power electronics take on harsh noise. Flailing vocals, alternating blasts of feedback form a white-hot center to melt all faces in its path.
This cassette definitely embodies scummy noise in all it's glory. Crusty, filthy, turgid destruction is what can be found on this tape, nothing more, nothing less. Well done.
| | |
| --- | --- |
| Composition: | |
| Sounds: | |
| Production Quality: | |
| Concept: | |
| Packaging: | |
| Overall Rating: | |