Innana – Signal/Or/Minimal CD
8 May 2013
xdementia
No Comment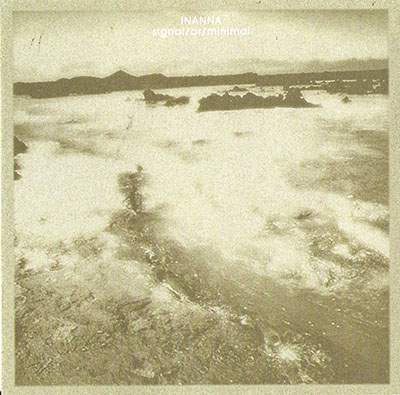 Innana – Signal/Or/Minimal CD
Crowd Control Activities
Released way back in 1999, I got my hands on this little sucker during my last trip to RRR. The running time clocks in at about an hour here so I figured, why not write a review while I'm listening to it? I'm a big fan of Innana's previous works yet this release is a step in a different direction.
Signal/Or/Minimal seems quite a fitting title as these tracks are more on the minimal side of things. Yet despite that they morph and evolve rather quickly going through a new iteration of sounds every 3-4 minutes. The transitions are very smooth though and it all seems to come off naturally.
Surprisingly much of the sound sources used here are glitch oriented and light experimental noise. Not your typical atmospheres arranged by Innana as they had in past releases. Yet there is still something that is very enticing about the album. It could be that the sounds are treated delicately, or that the compositions have this abstract character of structural sense. But they do manage to collide in a way that sets up a certain meditative atmosphere.
The composition plays a huge part in Signal/Or/Minimal because the sounds do tend to be rather plain. However, atmosphere is built through steady evolution, focused editing, and subtlety. It's a good effort that may perhaps be lost to the jaws of time.
| | |
| --- | --- |
| Composition: | |
| Sounds: | |
| Production Quality: | |
| Concept: | |
| Packaging: | |
| Overall Rating: | |