Svaixt – Lo C45
8 May 2013
xdementia
No Comment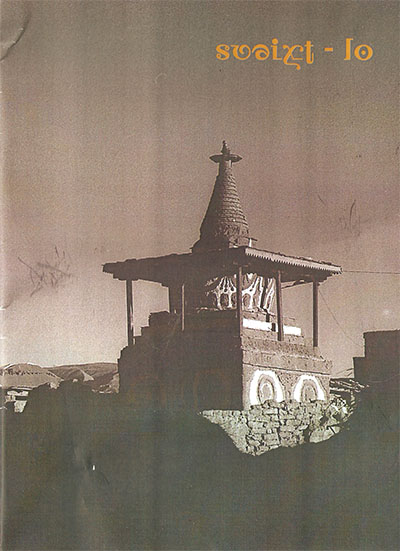 Svaixt – Lo C45
Svaixt is a side project of Laurynas Jukonis, the man who is also behind Girnų Giesmės. He apparently had an opportunity to travel to Upper Mustang which is an isolated mountain city in the far reaches of Nepal.
Lo is mostly a compilation of various field recordings from this enigmatic habitat which is Tibetan in culture. So what you can expect here are droning chants, windy ambiences, bells, and foreign walla. There are some tracks that stand out like the opener which consists of a glassy abstract drone and a few more organic textural tracks as well focusing on wind and rock sounds.
Although field recordings aren't my favorite thing this release does stand out with it's exceptional packaging providing an accompanying zine which explains the trip, the environment, culture, and context of the recordings. This helps them become not just easier to swallow, but also gives them a character and context which creates the truly special thing about this release. The recordings are a good quality but also very creative in themselves featuring a wide array of sonic terrain.
Lo appears to accomplish what it was set out to do; provide an aural exploration of the region, create a meditative atmosphere, and document a setting in an effective way. The release is quite beautiful with a silk screened canvas bag holding all the different pieces together. Another good effort from this increasingly prolific and quality label.
| | |
| --- | --- |
| Composition: | |
| Sounds: | |
| Production Quality: | |
| Concept: | |
| Packaging: | |
| Overall Rating: | |