A Night To Dismember – Chicken Heart 3"CDr
9 May 2013
xdementia
No Comment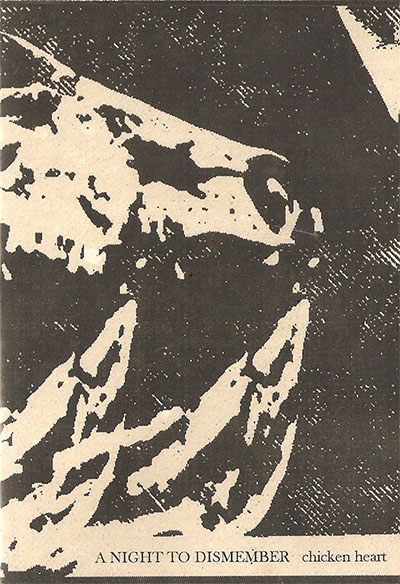 A Night To Dismember – Chicken Heart 3″CDr
Chicken Heart is a nicely put together release featuring a good dosage of harsh noise and power electronic sounds. Simple black & white artwork adorning off-white paper gives it a unique D.I.Y. feel.
The sound here is crisp and crusty. Well produced with frequencies searing in both the high and low-ends. The evolution of the track is a little choppy but keeps things unpredictable. The basic sounds here are heavy layers of distortion, some metallic movement here and ther,e a skip of delay or two blending in at times. All instrumental, yet through to the middle of the track things kind of die down from flailing harsh noise to a more death industrial approach.
Overall a compact but enjoyable release. With a consistent aesthetic throughout and showing a good knowledge of manipulating and destroying sounds. It's experimental and harsh noise with industrial tinges and a good ability to show movement and evolution.
| | |
| --- | --- |
| Composition: | |
| Sounds: | |
| Production Quality: | |
| Concept: | |
| Packaging: | |
| Overall Rating: | |