V/A – Death Season II CDr
13 May 2013
xdementia
No Comment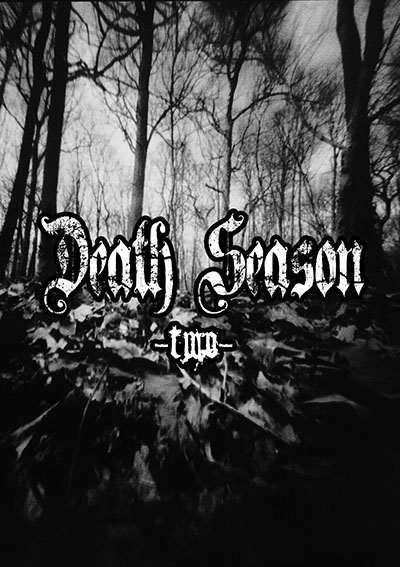 V/A – Death Season II CDr
Death Season II is a well rounded compilation representing a good variety of artists and sounds. It's curated with care and has a flowing stream of tracks which seems to make sense and lets the artists sounds unfold with effectiveness. Although there's maybe some part of me that feels that half of these artists are one-shot wonders they all manage to churn out some decent material which is rather unexpected for a compilation of lesser known artists like this.
As far as this review goes, I see this as a perfect opportunity for yet another installment of compilation awards!
1. Best Track
I gotta give this one to Normal Police – Tazed and Confused. It's the opener for a reason. The track features a great mix of throbbing industrial sounds with noise undertones. Of course on it's way out are some interesting synth textures as well which shows there's even more going on under the surface.
2. Most Creative
Cory Schumacher's It Never Goes Away for the excellent pitch-shifted vocal effects. The spastic shifting of tones and ferocity expressed add to the mayhem and with the unpredictable structure here just leads to some really interesting sounds and ideas.
3. The Composer
Loud Silence swoops in and steals the prey with Eels for Those Who Squeal. The evolution is just fantastic and leads to some really dynamic harsh noise attacks with excellent production. It's an odd amalgamation of styles too because it starts off with more clean sounds and ends in with a filthy affair.
4. The Mood Setter
Dementia and Hope Trails brings the ambience to this compilation which is actually few and far between. But Residual Misery, Cosmos Help Me is a cry to the unknown for some kind of redemption either through euthanasia or deliverance.
5. Best Track Title
Yet another award going to Normal Police with their hilariously named Tazed and Confused. It falls in line with their project name, the sounds used in the track, and clearly has some satirical fun with mainstream pop-culture. They get the trifecta on this one.
6. Worst Track Title
I've got to hand this one to Kevin Brodenheimer's Another Douche Bag With a Twitter Account. Maybe the track should have been titled "Another Douche Bag With a Distortion Pedal" instead? Let's leave internet trolling off of noise compilations please.
7. The Improvisor
Not always necessarily a good award. The improvisor is often the wanker as well. I think there is a touch of both good and bad in Distant Train's Cavernous Chamber of Churning Acids which features some nice layering in the first part of the track but devolves into circuit bent wankery by the time it wraps up.
I really can't say that there are any strait up bad tracks here. I enjoyed aspects of each and every one and they all collide to create a good compilation. I was unfamiliar with about half of the artists here but they all seem to bring solid material to the release. As well as being effectively put together by the label this fits the story of a successful noise compilation. Nice work.
| | |
| --- | --- |
| Composition: | |
| Sounds: | |
| Production Quality: | |
| Concept: | |
| Packaging: | |
| Overall Rating: | |