White Water Orgasm – When Was I Ever Wrong CD
15 May 2013
xdementia
No Comment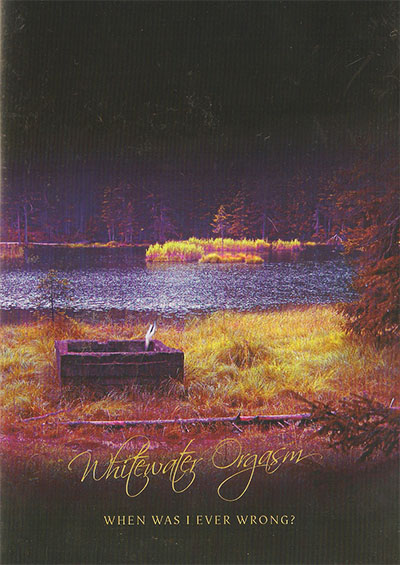 White Water Orgasm – When Was I Ever Wrong CD
I am unfamiliar with this project and upon setting my eyes on this release I had no idea what the expect. The artwork recalls more of a hallmark card than a power electronics release but this seems to be the general aesthetic of the artist.
What we are presented with is about an hour of blistering power electronics. The tracks are formulaic with basically one layer of either noise or meandering harmonies and vocals plastered on top. Although none of it is bad, all the tracks tend to sound similar with the only contrast being that some are more harmonious while others are more of a pure noise background.
The lack of layering here is what really rubs me the wrong way. Often times the sounds will only consist of one distorted synth, or one layer of distortion with vocals. Although it's mastered to be loud and full the songs still sound quite empty.
Things come to a head in Memories Destroyed where blistering walls of distortion leads to wall noise for about the first half of this 36 minute track. At the 18 minute mark the wall of noise is predictably joined by yet more disembodied harmony tones. If this was perhaps the first time he was presenting a juxtaposition like this I might enjoy it, but it follows the same suit of the entire album before it so it loses its effectiveness.
This material is just very mediocre. It's thought out to a certain extent but never manages to rise even above itself. If I were to give an edge to any of the tracks it would be both the opener Fountain of Fox and the aforementioned mammoth closing track. I feel the artist has potential but seems to be squandering it by being "safe" within the confines of the genre.
| | |
| --- | --- |
| Composition: | |
| Sounds: | |
| Production Quality: | |
| Concept: | |
| Packaging: | |
| Overall Rating: | |