Jaguar Crystal Palace – There is Going to Be a Change of Power C60
16 May 2013
xdementia
No Comment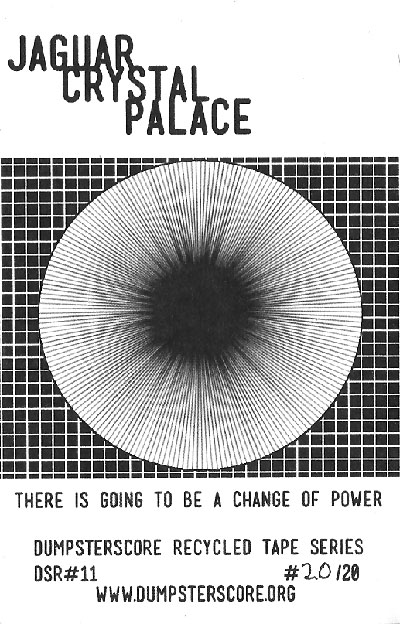 Jaguar Crystal Palace – There is Going to Be a Change of Power C60
I have to admit it is not until this moment that I realized Dumpsterscore Home Recordings has a recycled tape series. I am very pleased about this – even more esoteric sounds to explore! Jaguar Crystal Palace has very little information about them available anywhere on the net and even after a quick search I couldn't find any info about this release on the label's website even.
JCP present a curious amalgamation of sounds. Meandering (yes, wanky even) bell sounds layered over what sounds like a field recording of a city or small town. Add to that an equally wanky accordion, or harmonica? Maybe a recorder in there as well? I can't really tell. It goes on, it continues… how long have I been listening to this?
At times the instrumentation is joined by odd voices, speaking, or chanting? Like the ghost of an AM radio it haunts the landscape here which is riddled with police sirens and train whistles. It's all very raw and exposed. There is a type of "evolution" which increases over the course of the track where the playing gets more hectic and more active. By this time though it is actually increasing the level of irritation. The bells are especially annoying.
One thing that I really enjoyed about the recording is that it reminds me of a documentary recording of folk music or something. Sadly as far as music goes this falls flat on it's face. I'm guessing these guys fall into the genre of "free improvisors" but they need to know when to call it quits. It's too bad because there are some good moments here that at times almost redeem things but they just can't seem to pull it off. Honestly I couldn't even get through this whole thing but after a bit of fast forwarding I just gave up.
| | |
| --- | --- |
| Composition: | |
| Sounds: | |
| Production Quality: | |
| Concept: | |
| Packaging: | |
| Overall Rating: | |