Vehement Caress – Flawed Eternity C40
19 May 2013
xdementia
No Comment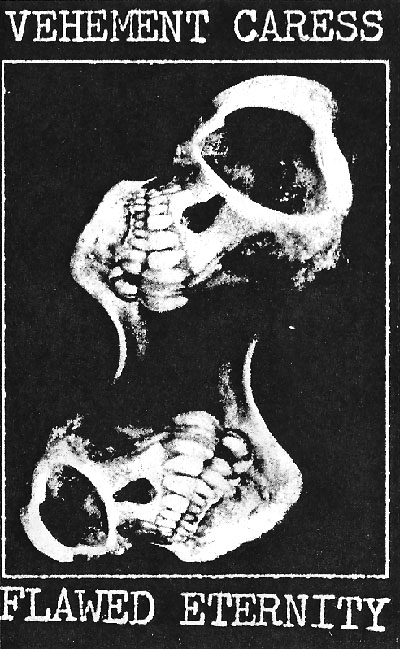 Vehement Caress – Flawed Eternity C40
Vehement Caress is Lex Russo, an understated dark electronics project from Boston MA. He also runs the low key tape label Apicult Recordings on which this cassette is released. In the past I have enjoyed Vehement Caress' output which usually is heavy squalls of harsh electronics ranging from throbbing industrial to seething power electronics.
Flawed Eternity is a different beast though. Embracing more of an aggressive ambience sound here Russo explores the depths of synthesis and atmosphere, a tact much different from his previous output. Although the release explores a variety of textures there is similarity in the sounds here and they seem to match the high contrast black & white artwork well. There is a raw edge to the recording which seems to prevent the sound from ever becoming too complex so the morphing of the basic layers is more apparent.
There are moments here that stick out like the abrupt yet highly emotional ending to Rupture 1 and Rupture 2 which make exceptional bookends to the album. The tracks do embrace a kind of stasis yet also show a fair amount of evolution, just slowly and stretched out over time.
So it is that Vehement Caress has changed his tone for this one and created an album that will appeal more to the drone heads then the harsh freaks. Recommended for those who enjoy their sounds culled from synthesizers and presented on raw tape.
| | |
| --- | --- |
| Composition: | |
| Sounds: | |
| Production Quality: | |
| Concept: | |
| Packaging: | |
| Overall Rating: | |