Epaulettes – An Exhortation in Martyrdom C30
19 May 2013
xdementia
No Comment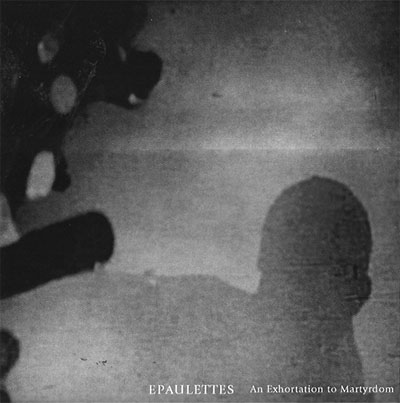 Epaulettes – An Exhortation in Martyrdom C30
Epaulettes is an artist hailing from Boston who works with a variety of synthesizers and effects to create heavy industrial-influenced drone. The artwork here is quite understated with merely an abstract shadowy image, perhaps of the artist himself as the cover. It fits the disembodied death drone well, and reflects the minimalist aesthetic.
Side A works very well with it's early onslaught of very airy industrial ambience. Whispery frequencies coupled with heavy tones eventually build up to an intense powerful synth throb. Then the synth throb is further built upon adding subtle harmonies to the mix.
Side B kicks off with a much noisier layer of distorted synths and sub bass interruptions. The track continues with a kind of unearthly energy propelling it and adding eq'ed distortion, alternating high-pitched tones all the while portraying a frantic atmosphere. The devil is in the details here and there is a lot of very subtle but interesting twists in these compositions.
The work of Epaulettes very much reminds me of the work of Reviver but perhaps a touch more layered. These tracks are thick squalls of darkened sound that suffocate until there is absolutely no air left to breath. Excellent work.
| | |
| --- | --- |
| Composition: | |
| Sounds: | |
| Production Quality: | |
| Concept: | |
| Packaging: | |
| Overall Rating: | |