Minamata – Niigata CD
24 May 2013
xdementia
No Comment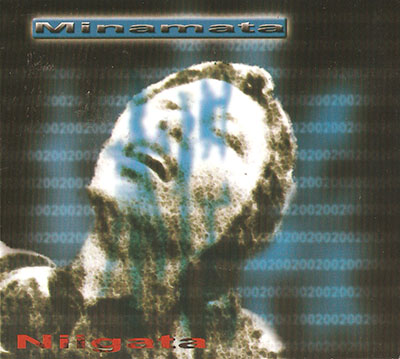 Minamata – Niigata CD
Despite being active since 1984 Minamata seems to have had a long bout of absence from 1991 to 2009. It wasn't until his resurgence in the latter part of the 2000s that I discovered the project for myself. It's unclear when exactly this particular re-issue of the cassette from 1985 was released but they added into the mix a mammoth 17 minute track to close things out which was recorded in 2002. Quite a nice addition.
If you're a fan of noise/power electronics or industrial you simply must check out Minamata who embodies the best qualities of these genres. The music is aggressive and lo-fi yet creative, experimental and thought provoking in concept and execution.
Expect a lot of junk percussion, distortion, layering, delayed vocals and foley sounds to add to the fray here but all these elements manage to collide into an organic yet machine-like meditative state. The composition flows and builds, often time expanding and contracting, letting in more or less space depending on where you are in the tracks. It's an affair that is sometimes messy and loose but never wanky or jammy.
Things really come to a head in Es Ist Schwer Zu Leben a track which brings the pummeling rhythmic attacks to the next level reminding me of something similar to old school Le Syndicat. Another shining moment is Niigata 1964 a track where percussive improvisation is juxtaposed with seething drones of distortion and drowning delayed vocals in an engaging fashion. Wo Sind Sie is a particularly good track that demonstrates Minamata's unique sound through experimentation with various rhythms and nuances.
Finally, the moment I have been waiting for is the newer track here entitled Niigata 2002 which is quite different from the rest of the album. Utilizing inharmonic analog synth pads to create a bed of textures with which to house crazed vocal rants. The track is very oppressive with building distortion and overdrive which creates an extremely claustrophobic atmosphere. Surprisingly the track takes a different turn towards the last quarter with more relaxed industrial atmospheres and even a harmonic organ joining more organized percussion to form a kind of emotional ending.
This is an essential re-issue to any fan of noise/pe/industrial. It's a great document and the new added track is top-notch material. I feel so lucky living in this day and age where artists that have been existent for over 25 years find a resurgence and new vitality after so much time in the game.
| | |
| --- | --- |
| Composition: | |
| Sounds: | |
| Production Quality: | |
| Concept: | |
| Packaging: | |
| Overall Rating: | |