Mind & Flesh – Martyr Generation CD
4 June 2013
xdementia
No Comment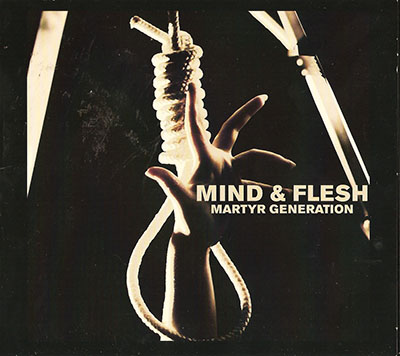 Mind & Flesh – Martyr Generation CD
Mind & Flesh is a project I know nothing about. Besides coming from the Force Majeure label – which apparently is yet another sub label of Nuit Et Brouilliard – the act is unknown to me. Martyr Generation is however, a pretty great introduction to the project.
What you will find on Martyr Generation is rhythmic – but not quite danceable – power electronics/industrial much reminding me of Irikarah, Haus Arafna, and Mind & Flesh' label mates Objekt/Urian. Some of the tracks are more primal and simple like the opener Walking Target, and How To Punish but each track varies a lot while retaining a similar style, and it is this that makes Martyr Generation a very successful endeavor.
Every track here is good but there are some true standouts as well that bring this album to the next level. The aforementioned How to Punish is only about a minute long but an excellent show of a more experimental take on power electronics. Destroyers features some really great details adding in harmonies and layers of pitched paraphernalia to really heighten the hypnotism it presents. But the true tour-de-force here is Learning to Hate You with an excellent rhythmic undercurrent and some subtle melodies taking sway over the repetitive industrial pounding.
Mind & Flesh definitely fall under the "new school power electronics" flag but unless you have some inherent hate for technology or clean sound production you can't hold it against them. They excel using the stylistic decisions that they have chosen, and they have created a good effort with Martyr Generation.
| | |
| --- | --- |
| Composition: | |
| Sounds: | |
| Production Quality: | |
| Concept: | |
| Packaging: | |
| Overall Rating: | |